AR Front Sight Tool Review
Aiming true with an AR 15 is perhaps one of the easiest things for anyone to do. They are accurate guns that are further enhanced by the sights present. However, you will need to find an AR 15 sight tool if you want to ensure you get the accuracy that everyone is looking for. Do you have the best AR sight tool? If you aren't sure, now is a great time to check our AR front sight tool review to find out what you may be missing out on.
Jump To Individual Reviews Of> AR Front Sight Tools
What Is a Sight Tool for an AR 15?
An AR 15 sight tool is a small device that is used to adjust the front sight elevation. This is often something that is not done easily and it may be confusing to some people because of your need to do things in reverse. For instance, if your rounds are hitting the high side of the target area, you will need to adjust the AR sight up a little until you hit your mark. If you are hitting below the target's center, you will need to adjust it down a little.
The AR front sight tool is a small metal piece that aids in adjusting the sight up or down as you need it. It is a metal piece that has tiny prongs on the end. You put it into the sight and twist to adjust it the way you need for it to go.
Choosing the Right Sight Adjustment Tool
One thing you will notice as you look at the many AR 15 sight tools is that they are all virtually the same. They are mostly all black in color and have the same number of prongs. Some can be used for multiple types of AR rifles, but this is because they are all so similar. They have one purpose and only one purpose. They are not multi-tools, except in the fact that they may fit a variety of sights. especially the ones that have four prongs on one end, which is for A-2 and five prongs for the A-1.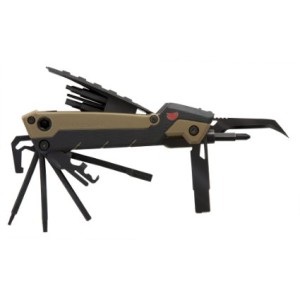 If you want a front sight adjustment tool multi-tool, you will have to focus more on a Real Avid Gun Tool Pro. It is specifically designed for the AR 15, but gives you knives and firearm specific tools. However, it is best to know how to adjust iron sights before you attempt to tackle trying to accurately sight some rifle scopes.
Another consideration is, if you have an AK sight, which is more wrench shaped, you will not need the AR 15 tool. That will be covered by an AK front sight tool and you should take a look at it if you have an AK rather than the AR15 sight. They are completely different in design and use. That is why we have searched for the best AR front sight tool on the internet and hope to share some of our most favorites with you.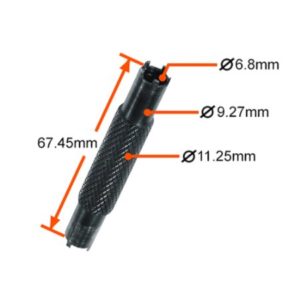 This sight tool features both the four and five prong set. It is a single tool that has been precision machined to adjust sights on the AR15. It has a patterned surface on it so that you can adjust it without losing your grip. More On UTG⇒
Real AVID AR 15 Front Sight Adjuster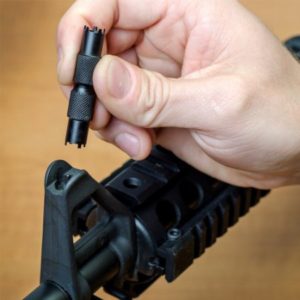 This provides you with both four and five prongs to work with the A1 or A2 style. It has been precision machined and features a durable black oxide finish to ensure it will last many years. It also gives you a sure grip thanks to the texture of the steel and coating. More On Real Avid⇒
Troy Industries Battle Sight Adjustment Tool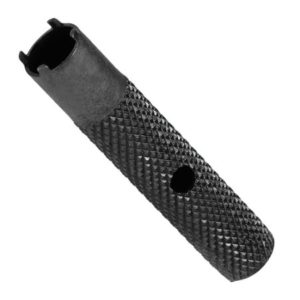 This sight can only be used on the A-2 model sight. It allows you to easily adjust elevation and it is made in the USA by Troy Industries. It comes with a lifetime warranty. It has a diamond pattern on the handle to ensure you can grip it firmly. More On Troy Industry⇒
NcStar AR-15 A1/A2 Front Sight Combo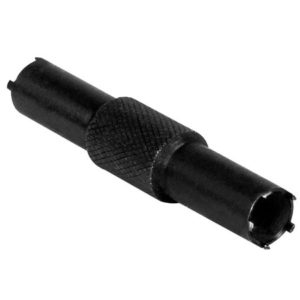 This sight works with the AR15/M16 A2, A1, and the M4 profile front sights. It has both four and five prongs to ensure a simple adjustment elevation. It is made using high-quality steel. More On NcStar⇒