Everyone needs a good knife to carry. They are useful in a variety of situations. It may be to do minor repairs or to open up packages. It can be useful on camping trips and many other outdoor activities. However, not many people want to carry around a knife with them when they are going about their day to day life. A pocket knife may be lost in a purse, a multi-tool is often heavier than we want to carry. That is why we have searched the web to discover the best keychain knife. Perhaps it will be what you have been waiting for.
Jump To Our List Of > Keychain Knife & Tools
What Is a Keychain Knife?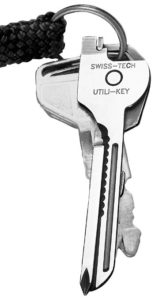 keychain knife is a tool that you can put on your keychain. Some of them may look like a pocket knife, but there are some that are designed to look like a key, but they have a knife hidden inside. The key pocket knife is very small, sharp, and useful.
Why It's Handy to Have A Knife On a Keychain
Due to the size of this knife; it may not be able to handle big jobs with ease. It is a knife that is always within easy reach, as long as you have your keys with you (which most of us always do). You can use it to cut threads or rope, clean your fingernails, and open boxes or packaging with ease. This means you no longer have to wait until you get home to open any number of other things that may have zip ties and hard plastic on them.
Is A keychain Knife A Multi-Tool?
There are some keychain knives that are keychain tools. They are multi-tools. The key shaped handle for the knives are not typically considered multi-tools. When we looked around, we found what we think is the best keychain tool, but there are several choices. Many include a fingernail file, scissors, a knife, and perhaps a few other small tools. If you are looking for something in particular, you may want to take a look at the reviews below. They are all impressive keychain tools.
SOG Specialty Knives and Tools Key

This is a key knife that has a straight edge 1.5-inch stainless steel drop point blade. The key itself is brass in color, but you can choose from blue, pink, and black as well. The black resembles a titanium keychain tool. It has a limited lifetime warranty against defects and the overall length of it is 4 inches. It weighs only 0.7 ounces. More On SOG⇒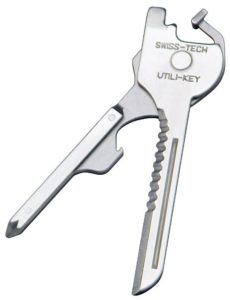 This is a 6-in-1 utility key multi-tool that fits easily on a keychain. It is made using solid stainless steel and has a bright polished finish. It is precision crafted and usable anywhere. It also comes with a limited lifetime warranty for defects. Tools include a flat screwdriver, bottle opener, Philips screwdriver, and a serrated blade, as well as the straight edge blade and an eyeglass screwdriver. Total weight is 1.4 ounces. More On SwissTech⇒
Guardman Keychain Shaped Folding Pocket Knife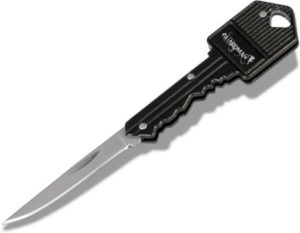 This knife is made with stainless steel. When closed the "key" measures 2.6" x 0.5cm thick. The blade, when open is 2". You can choose a key color that is black, leopard print, patriotic, or pink. It does not weigh down your keychain since it is only 0.8 ounces and you can use it for a variety of things. More On Guardman⇒
Victorinox Swiss Army Classic SD Pocket Knife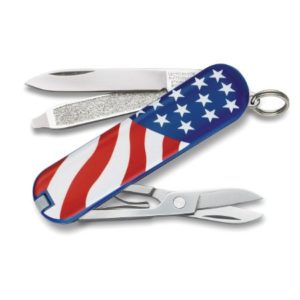 This Swiss Army keychain is available in a variety of colors to meet your own personal style. It is a keychain multi tool that can perform 7 different functions. You can use the blade, nail file, screwdriver, scissors, tweezers, a toothpick, and the keyring itself. It is covered by a lifetime warranty to protect you from defects in material or workmanship. More On Swiss Army Classic⇒
Spyderco Bug SS Slip Joint Plain Edge Knife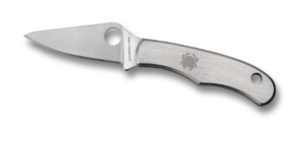 This knife is small enough to fit on a keyring, but it is made by the most trusted name in cutlery. It has a stainless steel blade with a satin-finished stainless steel handle. This Spyderco keychain knife measures 1.625 inches closed and 2.875 inches when opened. It has a limited warranty. More On Spyderco⇒