Best Knife Steel, Is The Kershaw Leek Composite the Answer?
Choosing the right pocket knife is not easy. There are different types and sizes. There are different shaped handles and blades that are made of different metals, with one of the newest type being a composite blade. We are here to help you try to decide if composite is best. We will try to explain what we discovered while searching for the best knife steel and is the Kershaw Leek composite the answer to your knife search. Read on to our Kershaw Leek review below.
What Is a Composite Knife?
Composite is defined as a mixture of two or more substances. A composite knife is a new type of knife blade. It is two steels that are blended together to give you a blade that looks great and works even better. It is a blade that does not require you to sharpen as often. It is lightweight, slim, and easy to carry.
How Are Composite Knives Different?
One of the biggest things you will notice about a composite blade is the weight. These blades are very light compared to the traditional, all steel blades. Titanium blades are a metal compound that is silvery gray in color. They are highly resistant to corrosion. The downside to titanium is that they become dull after usage, whereas the composite blade will stay sharpened for a fair amount of time, even if you use it to cut through tough items often. The best knife steel of all times is Damascus steel, but it is a blade type that has been all but forgotten. The composite blade is reminiscent of that forgotten metal and it is perhaps one of the best available because it is so similar. This simple fact makes people question; What is Damascus Steel? It is a metal blend that combines 2-5 different types of metal together and it creates a pattern. It was once used to create beautiful swords.
Our Kershaw Leek Composite Review
To help you gain a better understanding of what a composite blade can do for your outdoor adventures, you should take a look at the blades below.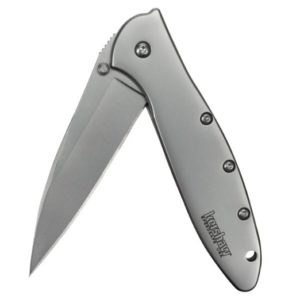 This is a beautiful and power knife. It has a 4.7-star rating after more than 1,500 reviews. It has a stainless steel, bead blasted finish and it is made in the USA. It has assisted opening, a frame lock, and a reversible pocket clip. It weighs in at only 3oz. More about the Kershaw 1660 here⇒
Kershaw 1660CB Leek Composite Blade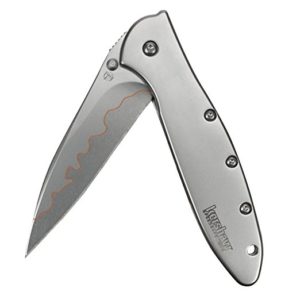 The biggest difference between these two knives is the fact that one is composite and one is not. They are the same size and they weigh about the same amount. The blade on this is Sandvik composite and it has been bead blasted. The handle is 410 stainless steel with a bead blasted finish. A black composite knife is also available. The selling feature of this blade is its beauty. However, some reviewers state that if you want to truly bring out the color, you need to soak it in vinegar. It does hold an average rating of 4.7. More about the Kershaw Leek Composite blade here⇒