Cool Tools For Dad For Christmas
They say that Christmas is the season of joy, but for most people, it ends up being the season of stress and worries over what to get people as a gift. Especially when it comes to our dad, the man who raised us and took care of us. It seems like that one person would be the easiest to buy for, but most of the time, they make you guess at what they need or want. This year, you can make it a little different. If you have a dad who loves tools, why not consider one of these cool tools for dad for Christmas? It may just make this season a little merrier than most, for you both.
All Around Cool Tool For Dad:
The Leatherman 830039 New Wave is a very popular multi-tool. It comes with a leather and nylon combination sheath. This is one of the best all-around tools for Christmas because it features a wide variety of 17 tools. There are pliers and wire cutters, knives, a saw, a pair of scissors, files, screwdrivers, and much more within one tiny little package that is backed by a 25-year limited warranty. This makes it the perfect gift for any dad who enjoys getting his hands a little dirty to get the job done.
Our Full Leatherman Wave Review Here⇒

Tool For Dads With Guns: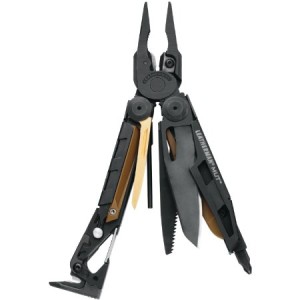 If your dad is a hunter, fisherman, or camper, a survival tool is a great choice for you. The best tool gifts for dad when he enjoys the outdoors is the Leatherman 850021 MUT-Multi-Tool. It has two types of pliers, a knife, and a saw, screwdrivers, and specifically designed tools for gun maintenance. You can also easily open it with one hand and all tools lock securely into place. The whole set is encased in stainless steel and there is a nice carrying case for it included as well.
Our Full Leatherman MUT Review Here⇒

Cheap Multi-Tool: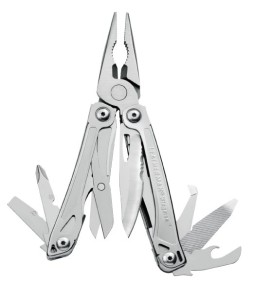 Christmas gifts can sometimes mean you spend a small fortune on those you care about. This year, new tools for dad, will not have to break your bank account. One great option for the person on a tight budget is the Leatherman Wingman Multi-Tool. It includes a variety of tools that include a knife, pliers, wire cutters, scissors, files, and more. The only downside is that you do not get a sheath with it, but it is all made of stainless steel. It is a guarantee that if he enjoys piddling around, he will be happy that you gave him a tool that can keep up with him whether he is repairing a car or doing some other task.
Our Full Leatherman Wingman Review⇒

Something Different This Year: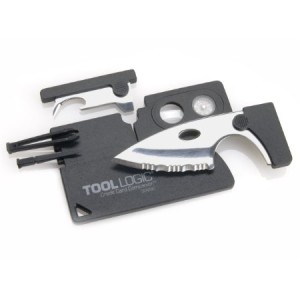 When you decide to give your dad new tools for Christmas 2015, you may want to consider something that he hasn't seen before. Something like the SOG Specialty Knives and Tools CC1SB. This is a unique tool that looks like a credit card, but it houses 9 different tools including a blade that is removable, a toothpick, tweezers, a bottle opener, a compass and a small magnifying glass. It may not be every tool that your handyman father will need, but it is sure to be something he will gladly carry around with him for those times when he is in a pinch.
Our Full Credit Card Multi-Tool Review⇒