Gerber Prodigy Survival Knife Review
When it comes to camping, fishing, hunting, or any number of other outdoor activities, everyone wants a knife that can keep up with them. Often, they want it to be compact and easy to carry, but feel that it should have a blade that is designed to cut through what they need it to. The Gerber Prodigy promises to be that, but is it really worth it?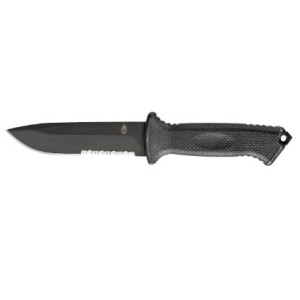 Gerber Prodigy Features

The Gerber Prodigy has a full tang 420HC stainless steel blade. It is coated with black oxide to prevent corrosion and any potential glare that may come from sunlight hitting steel. When you look at the blade, you will notice the very pointed knife point and a serrated area toward the handle to enable you to use it for a variety of tasks.
It comes with a sheath that has a friction release thumb lock as well as a leg strap and two extra straps to help you keep it securely attached where you need it. If you do not want it to be around your leg, there, you can use the Molle compatible hard sheath which has a ballistic nylon belt loop and straps.
Textured grip on the handle allows you to hold it easily, even if your hands are wet. The handle is made with TacHide to have a soft feel to it. This also means when you take it out of the sheath, you will not hear it scraping against it. At the end of the handle, you will find a lanyard attachment point as well as an emergency window punch.
Produced by a company that has spent years perfecting the ideas that have now brought them to create the Gerber Prodigy survival knife. Gerber has found the way to create a lightweight, 8 ounces, a knife that is 13.6×5.3×2.2 inches total. The blade length is 4.7 inches.
It has a limited warranty to give you peace of mind against product defects.
What Prodigy Owners Say
When it comes to Gerber, many people love the quality that is always evident in their knives and other survival tools. The Gerber Prodigy knife is no different. Current owners claim that is a solid, well built, balanced feeling knife that is suitable for a variety of uses. They say that straight out of the box it is sharp enough to shave with.
The main issues that they have with it is the sheath leaves a little to be desired according to some. Some people say that it may fall apart the first time you take it out on the trails with you. This can be countered by investing in a better sheath if you do not like the way it feels to you. It is a relatively small investment to fix this problem. Read More Owner Reviews⇒
Overall 

If you want a quality knife, the Gerber Prodigy will be a great investment. Even with the somewhat potentially bad sheath, you still have a quality knife that will last you through the years. Perhaps you will not see the issues with the sheath that others do as long as you have a blade that feels solid in your hand and works to do what you need for it to do