Gerber Suspension Multi-Tool Review
With over 70 years of experience in creating high-quality knives and other survival gear, is it any wonder that many people prefer Gerber Gear? They provide much more than just quality with their knives. They offer compact, easy to carry tools. They provide anything that the hunters, fishermen, and handyman could possibly need, especially if choosing multi-tools. To help you decide whether Gerber's newest multi-tool has what you need or not, you may want to read the Gerber Suspension reviews. It is an easy way to discover the good and the bad about this very popular multi-tool choice.
What Is Great about the Gerber Suspension?
The Gerber Suspension multi-tool is a lightweight 9.6-ounce multi-plier style multi-tool that packs a large variety of tools into one tiny package. When closed it is only 4 inches long and because it is a butterfly opening multi-plier, and there is not a lot of additional length added when opened. However, even though it is lightweight and small, you are not sacrificing durability. All of the tools are encased in a stainless steel handle and it features the Saf. T. Plus locking system so that you are guaranteed safe usability. It also comes with its own Ballistic Nylon Sheath.
Tools that you get within this multi-plier multi-tool includes: the needle-nose pliers with a wire cutter and stripper built into it, a straight knife blade and a serrated blade, a Philips screwdriver, a large and a medium flathead screwdriver, scissors, a bottle opener, a saw, an awl, and a Lanyard ring. In short, whether on the job, at home, or out on an adventure, the perfect tool for the job will be right there with you.
The Gerber Suspension multi-plier is also backed by the standard Gerber limited lifetime warranty against defects. This is a great way to allow buyers to purchase with confidence because if at any time the tool fails you because of its design, you can return it.
How Does Gerber Compare with Leatherman?
As with any of the Gerber multi-tools, there are people who will question whether one is truly better than the Leatherman multi-tools. The Gerber Vs Leatherman battle has been going on for many years and each person seems to have their own ideas of which is best. To help you see what the differences are, here is a comparison of how things measure up.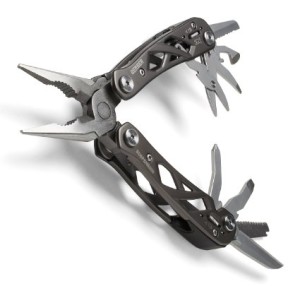 When wondering how the Gerber Suspension measures up against the Leatherman Wave you must first consider its weight and size. The Wave is smaller but heavier than the Suspension. It has files, screwdrivers, and bit drivers. The bits do not fit into its sheath. It also costs a substantial amount more.
When compared to the Surge and Charge by Leatherman, you will also find that the Suspension is easier to carry. Both of the Leatherman tools weigh respectively a pound or 15 ounces. The Leatherman Surge does provide more tools, but as a buyer, you have to decide whether you really need them all and want to carry a full pound on your hip or in your pocket. These multi-tools are only covered by the Leatherman's standard 25-year warranty while costing double or triple the amount that you will pay for the Gerber Suspension. How does this compare to what you want out of a handy tool? Read Owner Reviews Here⇒