Horizontal Carry Knife & Sheath Review
When hunting or camping, most people choose to have a knife within easy reach. This often means carrying a knife in a sheath on their hip as oppose to putting it into a pocket where it is hard to reach. It also means that you have a knife poking you in the leg or in the side every time you sit down somewhere. Now, you can change this by using a horizontal carry knife and Sheath.
Jump To> Horizontal Carry Knives & Sheath Options
Why Carry a Knife Horizontally?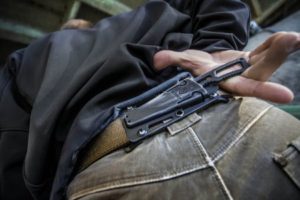 The advantage of horizontal carrying is simplicity. The knife is easily accessible on both hips regardless of whether you are left handed or right handed. Most knives are held by a simple snap that can easily be opened regardless of which hand you prefer to use. Your right hand can reach down to your right side or across your stomach to unsnap it. This also means that if you happen to fall and hurt your arm or hand on one arm, you can still use your other hand to access your knife. This could help if you fall while confronting a wild animal or dealing with some other bad situation.
The horizontal knife is also easier to work around when you are trying to sit down. It will not poke into your leg or your ribcage. A vertically carried knife may require you to adjust it to make it more comfortable, especially if it is a fixed blade knife instead of a folding one.
There are disadvantages to a horizontal belt sheath, mostly due to the knife's size when you are carrying a fixed blade knife. Some people feel that it should be concealed under a shirt or a jacket. The handle of it is always within easy reach and there is some concern that people will get the wrong idea if you come across them on a hike or in a campsite. If this is a concern for you, you can put the knife on your back, but it may lessen your access to it with one arm.
Is It the Same as an Everyday Carry Knife?
An everyday carry knife and a horizontal carry knife are practically the same. The only difference is the sheath is going to be different. If you want to carry your knife horizontally, you will need to purchase a horizontal sheath.
In order to help you see why some may choose to carry horizontally, you should take a look at the reviews below. They will show you the knives that are available and the sheaths that you can use for your adventures.
Gerber is a popular knife brand for many outdoorsmen. This knife features a modular sheath system that can be worn both horizontally and vertically. The blade is 420HC with a black ceramic coating to ensure it does not corrode. It has a skeletonized handle so that you can carry it discreetly, which is good considering the knife is 6.9in long with a 3.3-inch blade. More On Gerber Ghoststrike⇒
Schrade SCHF14 Drop-Point Fixed Blade Knife & Sheath

If you prefer a hard horizontal carry sheath this sheath could be ideal. It is most like a handmade horizontal Kydex knife sheath. The sheath is made with hard glass filled nylon. The stone washed blade is 3.4" and made of 8Cr13 High Carbon stainless steel. More On Schrade⇒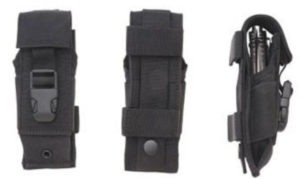 This is a nylon, dual carry sheath. It also comes with a Molle strap. It works for a variety of folding knives and multi-tools. It is great for anyone who has a damaged case at home and need a replacement. More On Timberline⇒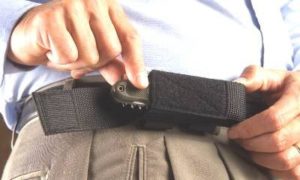 This polyester knife sheath is made in the USA and can hold a folding knife that is up to 5.5" long. It has a Velcro closure and hooks onto any belt to hold your multi-tool or folding knife horizontally on your side. This is one of the most popular horizontal carry sheaths. More On Raine Horizontal⇒