How to Make a Leather Sheath
A lot of men and women have multi-tools or knives that they want to carry along with them. Perhaps an old sheath that you have is no longer looking as good as it once did or the loop that held it to your belt is broken. Either way, it may be a little difficult to buy a sheath that holds it just right. The new sheath could be heavier, bulkier, or just not fit the knife or multi-tool the right way. If this is a concern for you, you can explore the option to learn how to make a leather sheath. All it takes is a little time and a little creativity.
Jump To> "How To Make A Leather Sheath" Video
Making a Leather Sheath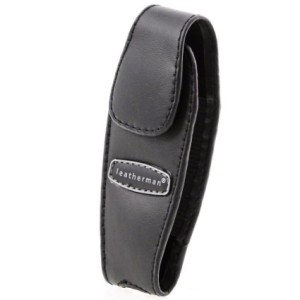 There are several tutorials on how to make a leather sheath on the internet. All of them have their own spin on the right way, but most agree that with a little effort, you can create a sheath that is custom made by you.
The best way to start is to start browsing through the many available Kydex sheath making supplies. Kydex is a very popular brand of leatherworking materials and supplies. You will need to choose the material that you want to use for creating your very own custom Kydex sheath.
From there, once you have the material you want to use, you will need to decide on the size you need it cut down to. To do this, you will lay out the knife or multi-tool on the leather/Kydex and trace around it on one side and then flip it over to trace the other side. This will give you an idea of where your cut lines should be. Remember, you want the tool to slide in easily, so you will want to make it a loose sketch around it.
If you want to add a loop for your belt, you need to also consider the loops placement. If you put it on the wrong side, you may be restricted as to how you can put it on. When sheathing a knife, if you want the tapered edge toward your back you will want the loop toward your hip and on the backside of the sheath. If you are creating a multi-tool sheath, this may be less of a concern, but you may still want to plan ahead and think about proper belt loop placement.
Once done with the drawing, you will want to cut it out using sharp scissors. There are scissors specifically designed for heavier material, such as leather, but it is not a requirement. You will also want to bevel the edges so that stitching is easier and will provide a flush edge on your sheath.
Stitching does require an awl so that you can put holes in the leather before stitching. This will make it easier for you and the needle. There is also heavy duty thread available for you to use which will make it more durable.
To get a more detailed idea of how to create your own sheath, you can look up a YouTube video that tells you step by step all that is required. It is called simply, "How to Make a Leather Sheath".
If Making A Sheath Is Not for You 
Not everyone is into the idea of crafting a leather sheath. It is a lot of effort for someone who has never worked with leather, even though creating a pocket knife sheath is one of the easier projects. For you, you have the option to purchase a new multi-tool or knife. A lot of the Leatherman or Gerber multi-tools come with a nylon sheath. It is a sheath that you do not have to make and perhaps the tool that you get will be better than your old one.