Is It Worth Buying Cheap Tactical Pants?
Today, we live in a world where people feel the need to be prepared at all times for anything that life may throw their way. It may be that you feel a need to carry a set of jumper cables or maybe that you always want to keep a charger for your cell phone. Some feel prepared means carrying a tool box in their vehicle and others are happiest if they have a multi-tool in their pocket every morning as a part of their "getting ready for the day" routine. When it comes to the men and women who choose multi-tools, you may also find people who prefer tactical pants over all other pants and the biggest question for them is also going to be; is it worth buying cheap tactical pants or do they need something a little more expensive to get them where they want to be?
Jump To => Tactical Pants Reviews
What are Tactical Pants?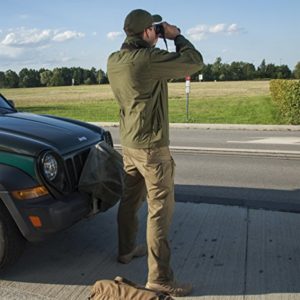 Tactical pants are pants that some people may mistake for cargo pants. However, they are better than cargo pants and were specifically designed to be worn by members of the SWAT team, FBI agents, and other professions where having tools within easy reach would be beneficial. They may also be worn by people in the military, hunters, mountain climbers, and more. They are made using lightweight material, but they have thick belt loops, may have external knife pockets, and reinforcement in areas such as the knees and seat. Some of these pants also have interior areas where you can add padding to the knee area.
Is It Best to Buy Discount Tactical Pants?
If being prepared and proving you are a survivalist is important, you already know that quality counts. Chances are good, you didn't find your favorite handgun or rifle scope on the discount rack. There is also a good chance that you paid a little more for your multi tool, simply to ensure that when you need it, it is going to be dependable. The same can be true for tactical clothing brands. Going cheap may not always be your best bet, but it also depends on what you want out of your tactical pants. If you want stain-resistance, it may be worth it to spend a little more. The same is true if you want more pockets or a certain material. To see what each price range may have to offer you, and to find out which will be exactly what you want; you should look at our tactical pants review below. It will give you an idea of which is the best tactical pants for you.
5.11 Tactical Men's TacLite Pro Pant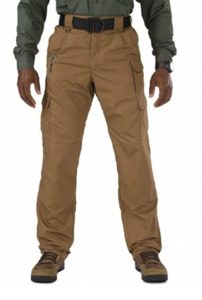 These pants are available in a variety of colors and they are made with Taclite polyester and cotton. This means they have ripstop ability and provide extreme comfort no matter what the conditions are. The material also resists stains, spills, and soil. The crotch is gusseted and they have reinforced knees and seat. They have large strap and slash seat pockets and a hip mounted D-ring. Current TacLite Pro Pants Pricing here⇒
Helikon-Tex UTP Urban Tactical Pants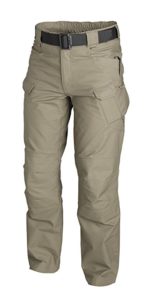 These cargo style pants have military grade ripstop. They are made of cotton, polyester, and spandex to give you rugged durability regardless of where life takes you. They have a comfort fit waist, extra padding slots in the knees, and promise to provide warmth or coolness in all climates. These pants have 12 pockets that can carry everything you need. Current UTP Urban Tactical Pricing⇒
TRU-SPEC Women's Lightweight Pants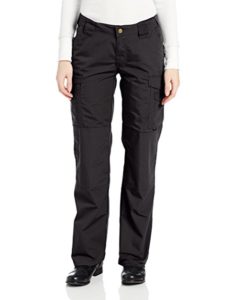 These pants are designed for the ladies who want to be prepared for anything. They are made using polyester and cotton. They have reinforced knees and slots for extra padding. They are designed to sit low on the hip in a low-rise style. They have a slider waistband to eliminate plastic or slide tabs for your comfort. TRU-SPEC pants Pricing here⇒
Bienzoe Men's Outdoor Quick Dry Waterproof Pants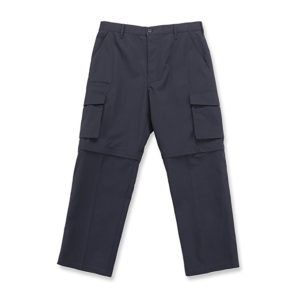 These waterproof tactical pants are convertible cargo hiking pants as well. They are made using ripstop material and have side cargo pants. They have a zipper to convert into shorts and they are very breathable when worn as pants. Current Bienzoe Pricing⇒
5.11 Men's Tactical Cotton Pants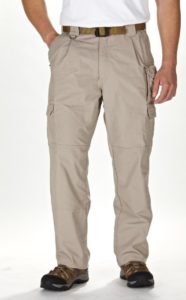 These cotton pants have 7 pockets and a rear strap and slash pocket design. They feature triple stitch construction and offer a superior fit with a self-adjusting comfort waistband. They are kneepad ready, but do not include the padding, they have a double thickness on seat and knees. Current 5.11 Cotton Pricing Here⇒