Leatherman Raptor Shears Review
This is one of the few multi-tools designed for those people who must be able to act quickly in an emergency. They allow anyone who uses standard medical shears a tool that is able to do more. Within this one single tool, you have easy access to a 5cm ruler, an oxygen tank wrench, a carbide glass breaker tip that is pointed and sharp enough to break auto glass, and a lanyard hole that allows you to attach it anywhere so you do not have to worry about dropping it when the situation gets tense. There is also a pocket clip on it if you would prefer to wear it on your pocket or belt loops without a sheath. The overall length of this Leatherman Raptor emergency medical tool is only 5 inches when it is closed up. The shears are 1.9 inches. It is also lightweight at only 5.8 ounces total.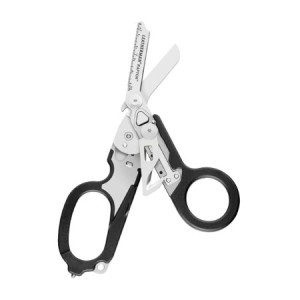 Why Have Leatherman Shears On Hand?
A lot of people who work in the medical field or as someone who deals with some very tough, life or death situations every day, already have medical shears within easy reach most of the time. Shears are usable when removing clothes from a person who is in severe pain when seconds matter. They are used for gauze to cover wounds, they cut stitches, and do more. This means that they take a beating every day, and unfortunately, medical shears are not known for holding their sharpness. The blades often dull and that is the last thing you want to deal with when a life is on the line.
What Sets The Leatherman Raptor Apart?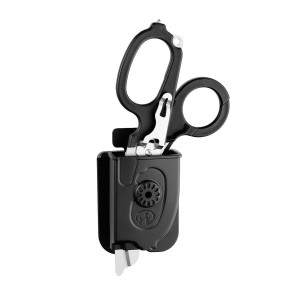 Leatherman has always provided quality blades that are meant to never need to be sharpened. They are tough, they are dependable, and they are ready when you need them. They use the same technique when it comes to the Raptor Shears and you get the added bonus of having several other useful tools within easy reach, along with the hard to dull shears. How much time could you save by having easier access to the oxygen tank wrench? How nice will it be to know that if you are on a roadside at an accident scene, you will not have to worry about the glass that may be between you and the person you need to help?
Who Benefits from the Raptor Emergency Medical Tool?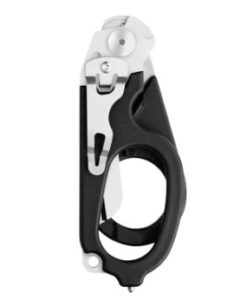 When it comes to what other people have to say in their Leatherman Raptor review, anyone, whether EMT, emergency room nurse, or fireman can make use of the Raptor tool. They say that it is not as easy to dull as the standard medical shears that they were using. This means, if you are constantly dealing with tough situations, you may also enjoy having your favorite tools within easy reach. As an added bonus, you can also accessorize your shears with the Leatherman Raptor holster, which is a stainless steel Molle Compatible Injection molded polymer holster. This will make your shears even easier to get to. Read More On The Leatherman Raptor Here⇒