Zero Tolerance Knives Review
Zero Tolerance knives are perhaps one of the most popular brands of knife on the market today. This is because they are created by a company that is devoted to pocket knives, sporting knives, and even kitchen cutlery. They are made in the USA and it has been that way since 1974. It is because of their constantly increasing popularity that we decided to give you a Zero Tolerance knives review so that you can decide which one will be best for you.
Jump To Our List Of The => Best Zero Tolerance Knives
Who Makes Zero Tolerance Knives?
The company is named Kai USA Ltd, but most people will come closer to recognizing their sporting brand name of Kershaw Knives. They are built and manufactured in Portland, Oregon. The same is also true for its other product lines, the Shun Cutlery, which is handcrafted Japanese kitchen knives, and the Zero Tolerance line that is designed for professional use.
Before this was a company, the man who created it worked as a salesman for Gerber knives. His name is Pete Kershaw and currently his company has over 250 employees. The company headquarters is in Tualatin, Oregon.
Why Choose a Knife by Kai USA Ltd?
These knives have earned their place in the hearts of many. They have a variety of awards that prove they are definitely building quality when they put together a knife. At the Blade Show in Atlanta, Georgia it has won as many as four awards in a single year and they have done it more than once. They have also earned "Overall Knife of the Year", "Most Innovative American Design", "Kitchen Knife of the Year", and "Knife Collaboration of the Year". With all of the awards and products that they have available, they are virtually a household name and they have the reviews to back it up. They also have a full lifetime warranty to ensure everyone gets the knife that they have been searching for.
ZT Knives Reviews
To help you gain a better idea of the quality of these knives, you need to see what they are all about. The best way to do this is to take a look at some of them. We have gathered up a list of what others consider the best Zero Tolerance knife available.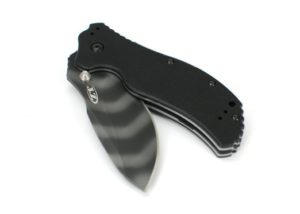 This knife has a beautiful tiger stripe finish on the blade which is further complimented by the black handle. It is smaller and lighter than many other knives. It is equipped with SpeedSafe, a manual assist for easy one handed opening, even if you are wearing gloves. The blade is made of S30V stainless steel. It has a tungsten DLC coating over its entire 3.35" blade length. More about the Zero Tolerance G10 here⇒

This impressive knife is made using Carbon Fiber. It is titanium black and measures 7.4-inches when opened. It features the KVT ball bearing opening system to ensure that it is easy for you to flip out the 3.25" blade. It weighs only 2.7 ounces and holds a 5-star rating. More about the Sinkevich here⇒

This upgraded Sinkevich is slightly larger in the handle, thicker in the blade, and has a unique style that is easy to hold onto. It measures 7.7" and has a blade that is 3.25". It features a titanium frame lock. It does weigh slightly more at 6.6 ounces, but the 4.7-star rating proves that most people do not mind. More about the 0456 Sinkevich here⇒
Zero Tolerance 0770CF Folder Knife

This carbon fiber knife has a handle that is textured so that you can grip it easily. It has assisted opening so that you will be able to open it with one hand. It has a 3.25" blade and extends to a full 7.5 inches when opened. It weighs 3 ounces and the reversible clip allows you to carry it on your right or your left. More about the Zero Tolerance Folder Knife here⇒