Best Assisted Opening Knife
What makes for the Best Assisted Opening Knife?
An assisted opening knife is a folding knife that utilizes an internal mechanism to fully open when you push a thumb stud or flipper. An assisted opening knife is sometimes confused with a switchblade. A switchblade will fully open when you push a button or lever and is also sometimes called an Out The Front Knife or OTF Knife. An assisted opening knife will not fully open until after you open it partially, and then the spring "flicks" the blade out of the handle, either in front or on the side.
Jump To> Assisted Opening Knife Reviews
How is an Assisted Opening Knife Used?
Just like with any other folding knife or tactical knife, an assisted opening knife is used by a vast number of individuals in a wide number of professions, such as:
• Firefighters
• Law Enforcement
• Military
• Hunters
• Campers
• Fishermen/Seafarers
• First Responders
Other names for an assisted opening knife is a spring-loaded knife, a spring assisted knife and a quick release knife. When you are looking for the best spring-loaded knife, you want one that will open quickly to get the job done. This is essential, particularly if you are in a situation where you need to defend yourself or get an accident victim out of a car immediately.
It is also important to note that most assisted opening knives come with other features such as a glass breaker. Although these are not quite a multi-tool, their versatility is limitless. Regardless if it is for personal or professional reasons, you can feel confident that with a spring-loaded knife, a sharp blade (read more about how to keep your blade sharp) is just a "flick" away. For more information on the best spring assisted knives on the market, take a look below at the four spring assisted knife reviews.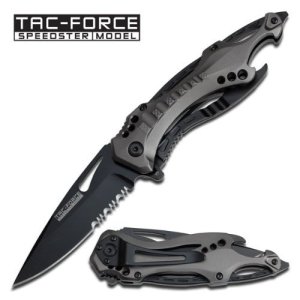 Over and over, individuals that have purchased the Tac Force TF-705GY Tactical Assisted Opening Knife state that it works more like a much more expensive assisted opening knife. This knife might be cheap in price, but it is definitely not cheap in quality. It has a black, half-serrated, stainless steel blade that is sharp and ready for use from the beginning. It opens with a thumb slo

t and has a long tang with a lashing hole.
The grey aluminum handle contains grooves that allow you to get a good grip. Embedded in the quality grip is a glass breaker and bottle opener as an added bonus. There is a pocket clip to wear this knife on your belt or waist make this for an ideal EDC Knife. The lanyard hole lets you wear it around your neck since the knife is only 4.5 inches in its folded state. Again at such an affordable price, it is easy to see why so many people purchase the Tac Force AOF. At the time of this review there are over 1,675 Reviews on Amazon, so you can see its' popularity. Read Full Owner Reviews Here⇒
Kershaw spring assisted knives are known for innovation, technology, and quality. This Kershaw assisted folding knife comes with an extra-thick tanto style blade for vigorous piercing abilities. This is seen mostly in tactical and rescues knives when cutting through tough materials might become necessary. Additionally, the Kershaw 1990 Brawler makes a great utility knife.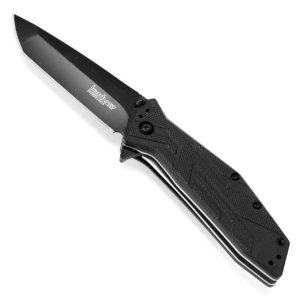 Whether you are left-handed or right-handed, you will be able to get a steady grip due to the glass-filled nylon handle. It is constructed to fit well in your hand at 4 1/8 inches, as well as featuring a speed safe and flipper opening systems. In addition, this folding knife possesses a linear locking system, a thumb stud, and a built-in flipper. The price is a tad more than the average assisted opening knife, but it is a Kershaw; a reputable name in the industry. Furthermore, those that have bought it say that it is well worth the price. Read those reviews here⇒
The first thing you will notice about this Tac Force assisted opening knife that differentiates it from others like it is the stylish wood handle. Constructed with pakkawood, it is the one to carry with you for everyday use. Along with the sturdy wood handle, there is a 3-inch, black, stainless steel blade that arrives to you ultra-sharp and ready to use.


Besides being attractive, the Tac Force TF-469 has a pocket clip, which allows you to carry it on your waistband or in your pocket since it is only 4 inches when closed. As with any knife, you will want one that allows you to have a good grip on it, especially when in use. All reviews for this knife by individuals that purchased it are amazed at the quality of the knife for its price. Moreover, owners state that, for what it is worth, it should cost more.  Read More Owner Reviews Here⇒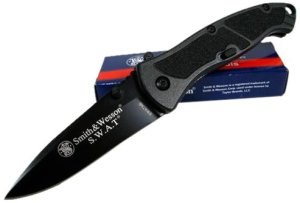 Anytime you see a product is manufactured by Smith & Wesson, you know it will be of superior quality. The Smith & Wesson SWATMB Swat Medium Assisted Opening Knife a black-coated, stainless steel, drop point blade for extreme sharpness, as testified by many owners. Polished and classy, the blade has "Smith & Wesson SWAT" embossed on it. According to reviews, this knife is common among

military and law enforcement officers. Tactical Knife Reviews Here.
The knife opens by either the finger actuator or the thumb knob. To protect you from injury, there is a safety lock. The handle is constructed of aluminum and textured so that you have a firm grip on it. Users say that the texture of the handle feels somewhat like sandpaper or tape to prevent slippage. There is also a pocket clip and durable liner lock. One difference is that this assisted opening knife is a tad bigger (5 inches) when closed. The price is also more than numerous other assisted opening knives, but for what you receive and the fact that it is made by Smith & Wesson, it is worth it. The majority of owners couldn't agree more. Read Owner Reviews Here⇒
Similar, but not the same, to switchblades, assisted opening knives are more common today because they perform well in a number of situations, from self-defense to military. Every day people also use them for utility knives because they are quite sharp, ready for use, and can cut through tough materials. The biggest pull to purchase one is the price. Generally, they are inexpensive, considering all that you can do with one. Whatever the reason for buying an assisted opening knife, it will be a sound investment.