There are lots of pocket knives that not only differ in style and materials but also, knives that have a unique combination of style and functionality. You'd think that a pocket knife is just a simple item you carry with you for the occasional chore much like an EDC Knife (Every Day Carry). If we're talking about knives with a shorter blade – under 3 inches, then, for most intents and purposes, self-defense is not why you'll want them. Instead, it's because a good pocket knife can morph into a tool that can ease a lot of workloads, be them occasional or actually central to your job. At any rate, we're going to look at a few models that are really special, that look amazing, are made out of great materials, both blade and handle and that are safe to carry around. These aren't the top rated multi-tools, but they sure are special. And, most of all, on our list we will only include pocket knives that are unique in some way, either in looks or in terms of functionality.
Top Rated Unique Pocket Knives

The great thing about this knife is that it is a wonderful tool for cutting. On the blade, it has an inner slide which is great for materials where you want a rougher surface that can mechanically sink into an object. Towards

the tip, the cutting blade stays rim free. What you'll also enjoy with this knife that it has a handle design that makes it like one of those pistols like grips. This allows you to control your cut and also to keep it steady. Visually it's a really badass knife, though not very fierce; one of the colors I love the most is the black and graphite version, though there are a few more to choose from. Also, at a length of 1.85 inches, this is really a small foldable pocket knife, that you can truly take everywhere with you. And the futuristic look is definitely something that will endear this model to you and definitely makes it a unique pocket knife. Check Color Schemes Here⇒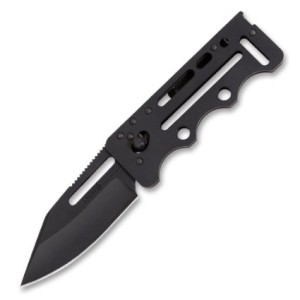 The SOG Access Card is more of a specialty knife, though one that manages two very important things: it's very light, with portions extruded, both to keep it light, but also because of the smart design where the areas extruded act as a railing that can be used to bend. Lengthwise, with a 2.75-inch blade, this is better if you want a larger cutting surface, however, the entire blade is "clean" with no indentations. So it might not be as versatile as the Subcom F, but that doesn't take away the fact that it can be a mighty tool just as well. Also, for those that want an easy to open knife, this one can be

opened with one single hand and securely stays open as well as closed. Not quite an assisted opening knife, it still does open with ease. It's somewhat related to the BokerSubcom, looks wise, especially if you consider the black version, which both look like props from some late 90's Sci-Fi movie. Also, in terms of materials, both the blade and the handle are stainless steel, black, with only a small surface of the cutting edge not color treated.
If you didn't think the two pocket knives above were special enough, well, you should really give this model a go! The pocket knife, folded, looks like a business card. However, look closely at it and you'll begin to see that there is a blade hidden in the perfectly rectangular design. The knife unfolds easily, the exterior portions of the "card" going one over the other and folding, to showcase the blade, which is firmly fixed with 4 rivets onto the

emerging handle. Design-wise, it's really a cool, tricky knife, and in terms of actual usefulness, while there are knives out there that are easier to hold, with more grip, the Iain Sinclair knife still does a great job. It's also sturdier than you'd think, no wobbling so you can actually do some useful cutting with it; though the business type it addresses might keep the knife from very hard tasks. Either way, design wise, this is something else; truly making it a unique pocket knife… or maybe a wallet knife… Find out more about this sweet knife here⇒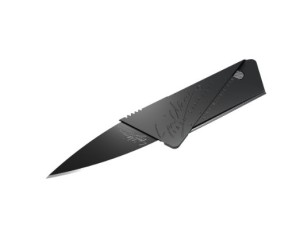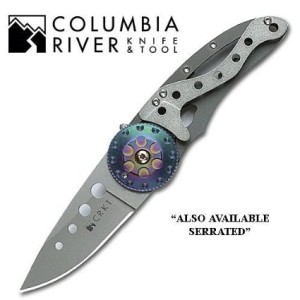 If you're not much in to a design that is neat and clean, and all three of the above knives can be said to have this type of building, you also have an option that seems to combine internal clock mechanisms with steampunk and to lay them all out into an outstanding, almost precious object/jewelry like a knife. The River Van Hoy offers larger and many more designs are available, but the ornate nature of the one we picked, seemed to us not to impede on functionality one bit. Yes, the knife looks great, but it's a cutting machine nonetheless, so don't confuse it with some toy. The blade also has indentations, to help in finding the diameter of thread or wires, and the closing mechanism is really smooth and easy to open. Yes, you'll still see the blade with the knife snapped closed, so this might not be the safest to carry around, but if looks are more important to you, then the Van Hoy series is really interesting.
And now, for our last entry, this tool/knife/mouth agape machine is really worth looking into. It might not be a classic pocket knife, though it can be carried in a larger pocket, it's definitely very interesting. Read More Here⇒
Now, the other entrants in our list were all in the tens of dollars price tag, but this one is actually crazy expensive, at $1,400, but it sure is something special. It's a Swiss knife on steroids, with about 141 functions "mapped" to 87 implements. Quite frankly, it's over the top, maybe not in the best of ways.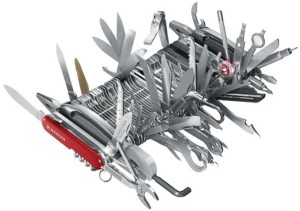 Our thinking is that, if you're willing to go with the price tag, you're not really going to be using it that much. This will be more of a talking piece rather than anything else. However, if you had to, it will definitely work! You've got the clippers, you've got a knife there too (!) you've got all sorts of crazy tools that you'll never use. Unless you really had to, case in which, in spite of its bulk, the Giant can actually do the job. As one reviewer put it, this knife (what an understatement!) made him the king of Switzerland, which it kind of does…When you take a look at the price you'll soon realize this is only a joke ….. but take the time and read some of the reviews on this for hours of entertainment!
Compare some of the Top Rated Unique Pocket Knives below: