Chances are, if you are looking at the Leatherman MUT, you have a military/law enforcement background or you are an avid marksman or tactical person. The MUT is very much laid out for the tactical personnel or someone who is looking for an AR-15 multi-tool. How so? Well there are not very many other multi-tools that come equipped with a replaceable bronze carbon scrapping tool for removing carbon buildup on a firearm. The MUT does. Having said that, the MUT is just as capable for practical use as it is for tactical use. This multi-tool is also suitable for an electrician. The stranded wire cutters as well as traditional wire crimpers make it perfect for anyone whom may be conducting electrician type work on a regular basis.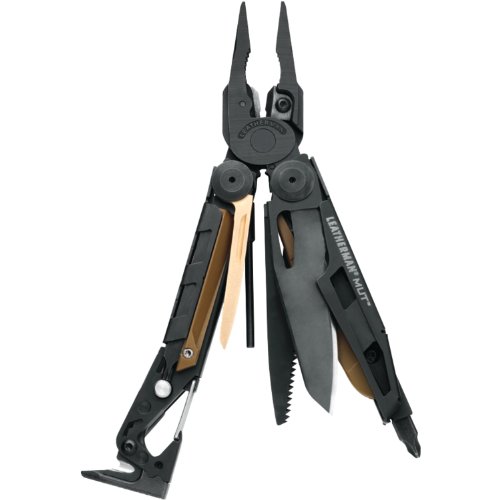 All of the added tactical features do, unfortunately, add to the weight of the multi-tool. The MUT tips the scales at a whopping 11.02 oz. This is significantly heavier than other Leathermans and even heavier than the Victorinox Swisstool 53946. This makes this tool a bit unrealistic for everyday carry. The MUT was designed more so for the survivalist, marksman, tactical user that will be planning on being in the field, hunting, camping etc. The design of the MUT is different than your average Leatherman, this is a skeletal design. The design gives the multi-tool an aggressive look, but that aggressive design also stretches the tool out, measuring 5 inches when closed. The size/weight is certainly something to consider when purchasing the MUT, in addition to the pricing. The MUT is usually around the $120 Price Point.
Leatherman MUT Review:
Needlenose/Regular Pliers
Replaceable Hard & Regular Wire Cutters
Stranded Wire cutters
Electrical Crimpers
420HC Combo Knife
Saw
Replaceable Cutting hook
Bolt Override: Manually eject a jammed round in AR15 platform rifle
Replaceable Bronze Carbon Scraper: Remove carbon buildup on firearm
#8-32 Cleaning Rod/Brush Adapter:  8mm diameter and 32 threads-per-inch.

 Replaceable Firearm Disassembly Punch: Punch of pins of a firearm

Carabiner/Bottle Opener: Carabiner is something we don't see on many multi-tools. Nice upgrade
Large Bit Driver
Also in the box: Torx #15 & Hex 7/64″, Phillips #1-2 & 3/16″ Screwdriver, Phillips #2 & 1/4″ Screwdriver




Leatherman MUT Tactical or Electrician's Multi-tool
Well, by now, you can probably guess the MUT is for the tactical/military person. The tool comes equipped with many tools specifically for firearm disassembly and maintenance. However, Leatherman did not sacrifice the every day carry features such as pliers, screwdriver etc, making this tool suitable for tasks outside of firearm related uses such as electricians. The weight and size (5 inches closed) make it hard for us to consider this an every day carry tool, therefore I think this is a tool to be carried by someone with a significant purpose.
Leatherman MUT Owner Reviews
With over 420 reviews on Amazon and an average score of 4.6 out of 5, there is no doubt that there are many happy owners of the Leatherman MUT. Of course, many of the happy reviewers are coming from the survivalist or tactical background. If you are someone actively engaged in military or tactical activities, the MUT is for you. Check out what others have to say: Read More MUT Owner Reviews Here⇒