Gerber Crucial FAST Review
The Crucial FAST is one pocket tool worth looking at if you plan to buy a simple and yet reliable multi tool set. Gerber adds a notable feature to this pocket knife which sets it above other pocket knives: the FAST technology in the tools. F.A.S.T. (also known as Forward Action Spring Technology) allows the user to quickly deploy the tools while keeping the handles steady. You can easily deploy the blade by triggering the thumb stud and the safety release. Once in position, it is locked and stays in place until you release the safety button to securely close it.
Gerber Crucial Multitool Product Features
Item Weight: 5.8 ounces
Product Dimesnion: 4.4 x 1.9 x 1.1 inches
Tool functions:

half fine knife,
half serrated knife blade
long medium flat-head screwdriver
long Phillips screwdriver
bottle opener
needle nose pliers
regular pliers
pinch-style wire cutters

Warranty: Lifetime (Read Warranty Review Here)
What's Unique About The Crucial 
F.A.S.T. (forward action spring technology) – this technological advancement in the tool makes this top notch in performance and reliability. It makes it easy for you to use any of its eight functions.
Eight functions – The multi tool is not cramped with many unnecessary tools. The designers did not squeeze in a small pair of scissors nor a toothpick just to add another feature which is probably unnecessary. It is limited to the necessary reliable 8 functions: Half fine/half serrated blade, regular pliers, pinch-style wire cutters, cross-head driver, bottle opener, flat-head driver, and needle-nose pliers.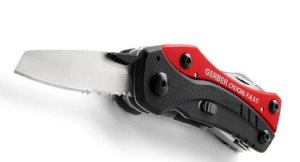 Safety Feature – No one wants to accidentally cut a wire or a finger while using a tool. This Crucial FAST multi tool set has a safety lock which keeps the blades in place no matter how you use it. There is an easy access thumb stud that lets you open it easy. There is a reliable lock that keeps the knife in place.
Liner locks on all components – some multi tool sets only lock the blades. This tool set locks all the tools to let you easily use them for whatever purpose. A dangling screwdriver is just as annoying and unsafe if not locked in place while being used.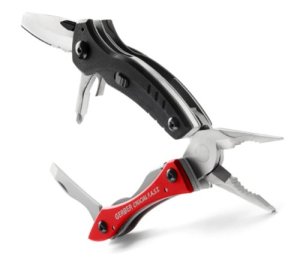 G-10 handle for better grip – When using a tool feature, the common mistake of manufacturers is forgetting the importance of the grip design. You will not be able to use a screw driver properly if your handles do not have maximum gripping capability. If the handles are too small, your tool features are useless. Doing that twist and turns on the screw drivers and cutting that wire needs a reliable handle to grip for leverage and maximum performance. The handle size and the design on this multi tool is yet another great feature Gerber should brag about. 
Why Buy The Gerber Crucial?
Portable and Lightweight – You can carry it with you anytime. It is ultra portable that you can put it inside your pocket. It also has a belt clip so if you don't want it inside your pocket but still accessible, you can clip it to your belt. We almost have to consider this a unique pocket knife & an every day carry knife!
Quick Deploying Blade (FAST technology)- The blades easily deploy and locks in place.
Durable Construction – The tool is made of stainless steel which is designed to withstand the elements. You can take it outdoors with you all the time.
Adjustable butterfly style handles – The adjustable handles give you the leverage in using the tool better.
Reasonable Price – The price is quite affordable as compared to other multi tool sets
Lifetime Warranty – This guarantees quality material. This lifetime warranty assures you that you can rely on the product. The Gerber Crucial FAST won't fail you when you are out camping, hiking or trekking. Lifetime warranty means trusty reliable tool.
Who is the Crucial for?
For Car Owners – portable tool for your daily trips. You can keep it in your tool box instead of having different set of bigger tools which you actually do not use. The Crucial FAST has all the necessary basic tools that you might need for your basic car trouble shooting.
For Campers and Hikers – Definitely a great buy for people who love the outdoors. The knives can be used to cut through almost anything. It can help you with your setting up of the camp, gathering wood or even for hunting. This is a good buy and a practical tool for the household needs.