Leatherman Charge ALX Review
The ALX 6061-T6 is a close cousin the the Leatherman Wave and Leatherman Charge TTi. So what's the difference between the three? To start the ALX does not have a large screwdriver nor a scissor, which are onboard the Wave and TTi.  As I have mentioned in many other reviews, you either love the scissors provided by multi-tools, or you never use them. The ALX and TTi both have wire crimpers whereas the Wave does not. The ALX comes with a different ergonomic outer design/coating and the biggest difference of all what some are calling a "gut hook," which the ALX has that the others do no. A huge plus for anyone interested in fishing….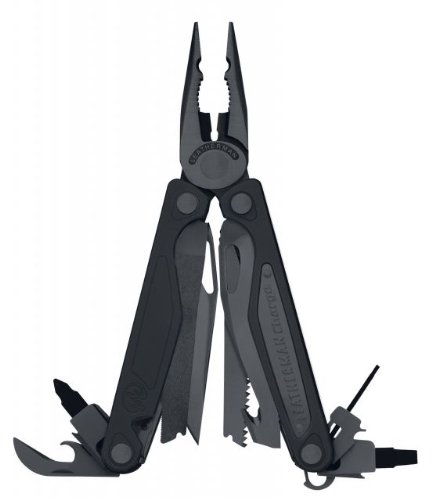 Leatherman Charge ALX Multi Tool:
Needlenose/Regular Pliers
Hard and Regular Wire Cutters
Wire Crimper
154CM Knife: Corrosion resistant stainless steel that holds its edge THREE times longer than 420SS
Saw
Cutting Hook: aka Gut Hook, multipurpose cutting hook
Ruler
Can/Bottle Opener
Wood/Metal/Diamond Coated file
Large & Small Bit Drivers
Also included in the box: Square Drive #1 & #2, Eyeglass Screwdriver, Hex 5/32 & 9/64″, Hex 1/8″ & 7/64″, Hex 3/32″ & 5/64″, Hex 1/16″ & .050″, Phillips #1 & #2, Screwdriver 1/8″ & Torx #15, Screwdriver 1/4″ & 3/16″


The jaws of the pliers is also slightly wider than that of the Wave. Again, the biggest difference between the three, and setting the ALX apart from the competition is the cutting hook. Many people especially outdoorsmen needing to cut cord, or those who are often on the water, will come back to this cutting hook. In terms of size the ALX is slightly, by a hair, longer than the Wave, also a bit chunkier due to the ergonomic grip.
Who is the Leatherman ALX for?
The Leatherman ALX is great for everyday carry around the household, or even in the outdoors. Weighing in at 8.3 oz, its not the lightest Leatherman, but surely is comparable for other everyday carry multi-tools. The 154CM corrosion resistant blade will be attractive to those who want a multi-tool that is low maintenance (less sharpening of the blade) as the high carbon, high alloy stainless steel will hold its edge three times longer than that of 420HC stainless steel.
ALX Owner Reviews
Although the ALX only had a total of about 40 reviews on Amazon, most reviews were for 5 stars! That is a testament to how users feel about their ALX. The number one complaint with the ALX is a lack of scissors or the addition of a useless tiny screwdriver. As previously noted in other reviews, I rather have the tiny eyeglass screwdriver and the scissors. Nonetheless, the negatives are in relation to the presence of absence of particular tools, which you may or may not value. Read The Outstanding Owner Reviews Here⇒