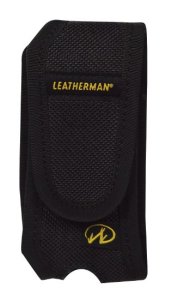 The Leatherman Surge Pocket Multi-Tool is similar to the standard pocket multi-tool, except that it is bigger and stronger. This is one of the two largest multi-tools constructed by Leatherman. The first thing you will notice about this multi-tool is that it is larger than your average size multi-tool, which is probably why Leatherman multi-tools come with their own pouches or sheaths. Additionally, this multi-tool is constructed with more toughness. Thus, you have a sturdier Phillips screwdriver and pliers that won't injure your hand trying to squeeze. Moreover, the blades are longer and more resilient.
Leatherman Surge Features
The Leatherman 830160 Surge Pocket Multi-Tool possesses 21 tools, including:
Pliers (Regular and Needle Nose)
Scissors
Wire Cutters
File Blade
Knives (Serrated and Clip Point)
Bottle Opener
Can Opener
Ruler
Screwdriver (Large and Small)
Awl
Saw
Blade Exchanger
Electrical Crimper
Stranded Wire Cutters
Bit Driver
There are plenty more features on this multi-tool to set itself apart from other multi-tools on the market. This one allows you to use several different items, such as the scissors or two knives from the outside of the multi-tool. Also, four of the blades can be opened as well for easy access. The Leather 830160 is 100% stainless steel that makes it rust-free.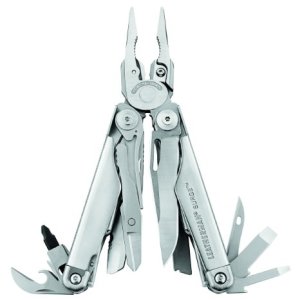 There are additional accessories that are available for the Leatherman 830160 Surge Pock Multi-Tool. They are:
Bit Kits (9-piece  or 21-piece)
Pocket Clip
Bit Driver Extender (Stainless Steel or Black)
Lanyard Ring (Included, Lanyard/Cord Needs to be Purchased Separately)
The nylon sheath is very sturdy, and you can either have the Velcro flap open or close with the Leatherman 830160 inside. There are extra pockets on the nylon sheath for accessories you need to carry around with you, such as extra bits.
Surge Ease of Use
With all of the various parts it has, you would think that the Leatherman 830160 Surge Pocket Multi-Tool will be difficult to handle. This is farthest from the truth. This multi-tool has the capability to open one feature without having to close another. For example, if you need to sharpen the blade of your ax, you can just do so without closing the scissors and pressing them back into the handle. It lets you have access to the tools you use the most. The locks are easy to use.  This multi-tools was constructed for tough jobs and for those that perform them. It is an excellent product because they have the tools they need ready when the user is.
Leatherman Surge Quality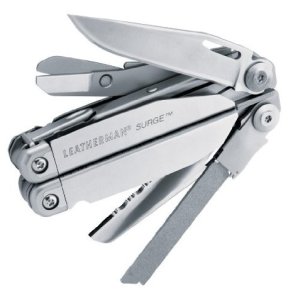 The Leatherman 830160 Surge Pocket Multi-Tool is made of 100% stainless steel for durability. It has been said to be a "powerhouse" multi-tool for:
Construction Sites
Warehouse/Dock Workers
Hunting Trips
Camping Trips
Law Enforcement Officers
DIY Home Projects
First Responders
Fishing Trips
It is also ideal to have one in your emergency kit or glove compartment of your car, as well as the toolkit in your garage. It is important to note that the Leatherman 830160 does come with a warranty. In case any part becomes defective, Leatherman will replace it. Users that have had to send their multi-tool back to Leatherman have stated that the customer service was friendly, and the turnaround time for the replacement was quick.
Surge Bottom Line
The Leatherman 830160 Surge Pocket Multi-Tool is everything you would want if you are in the market for a strong and dependable multi tool. It is a Leatherman, so you know that it is constructed by a company that is very familiar with what a decent multi-tool should do. With its many years of tradition of intelligently crafted products, you will get your money's worth. Those that have purchased this multi-tool like it because it can be operated with one hand. For more information on what exactly a One Handed Tool "OHT" is, check out the OHT Leatherman review. They also like the fact that the tools that they use the most, they do not have to constantly fold one in to have access to another tool; they can have four tools open at once. For those that use the Leatherman in their professions, such as first responders, firemen, and military, this makes their job a lot easier.

A feature that users have grown to love is the quick, spring action of the various tools. They say that compared to the original style Leatherman multi-tools, the blades and knives on the Leatherman 830160 deploy much faster. This is very similar to an assisted opening knife. Not surprisingly, a lot of male owners of this Leatherman multi-tools have purchased another one as a gift for their sons. They have stated that while it might seem that this Leatherman multi-tool has too many tools for some people, you will be surprised how handy it is. Moreover, you will be surprised to see how many of these tools you will actually be using quite frequently. Compared to other brands and models of multi-tools, the Leatherman 830160 Surge Multi-Tool is priced higher than the average multi-tool. However, when you consider all that is included with this product, the price doesn't seem that high. Individuals that have bought the Leatherman say that it is well worth the price. They are very happy with it, and they would recommend it to anyone looking for a strong, sturdy multi-tool that will last a long time. Read Owner Reviews On Leatherman Surge⇒
Available Leatherman Surge Options: