Victorinox SwissTool RS- A Firefighter Multi Tool
If there is one name that is synonymous with portable pocket knives, it is Swiss Army. For many years, thousands of people have carried that little red pocket knife that comes equip with everything from a nail file to a bottle opener. With the realization that technology and the needs of their customers were swiftly changing over time, the makers of the original Swiss Army knife have joined the forces of those that are constructing multi tools.
The Victorinox SwissTool RS/Pouch is a creation by the same company that made the original Swiss Army knife. As such, it is made with creativity, originality, and functionality. So much so, that it almost made our list of Unique Pocket Knives.  There is very little this multi tool can't do and much that it can. Hence, it is no surprise that this is the best-selling multi tool created by Victorinox Swiss Army.
Victorinox SwissTool RS Features
The Victorinox SwissTool RS is spring loaded so that all of the tools are very easy to open. There is no difficult tugging one tool, as with other multi tools, to get to another tool. With this in mind, it was constructed to perform quickly for any emergency circumstances, and is often referred to as a "rescue tool."
One of the best features of the Victorinox Swiss Tool RS is that all of the tools can be accessed from outside the handle. What this means is that unlike typical multi tools or pocket knives where you have to pull out the pliers or another tool, you can have quick access to those tools that you use the most. More importantly, they stay open outside of the handle until you lock it back in. This is an important feature for people like firefighters and first responders.
The Victorinox SwissTool RS comes equipped with: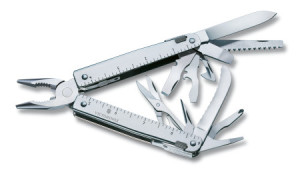 • Pliers
• Wire Benders
• Wire Crimping Tool
• 2 Rulers (9 inches/230 mm)
• 3 Screwdrivers (3mm/2mm/7.5 mm)
• Wood Saw
• Cap Lifter
• Reamer
• Scissors
• Seatbelt Cutter
• Crate Opener
• Large Blade
• Lock Release
• Nylon Pouch
It is made with durable stainless steel and comes with a lifetime warranty. If any part becomes defective, Victorinox will send you a replacement. But most likely, that will not be necessary. Purchasers that have bought the Victorinox Swiss Tool RS and previously owned a Victorinox SwissTool stated that the only reason they bought another one was because they either: 1. Gave the old one to someone else (usually a son or brother) or 2. The old one went missing (usually taken by a son or brother).
This multi tool also comes with a nylon pouch for easy carrying.  Even if it didn't have the nylon carrying pouch, this multi tool is not bulky, but compact enough to fit into your pocket or purse. Many buyers have said repeatedly that they do not leave their homes without their Victorinox SwissTool RS.
Swisstool RS Ease of Use 
If you are in the market for a multi tool, you will not find one as simple to use as the Victorinox SwissTool RS. For those that do a lot of outdoor activities, they have raved about the fact that the blades can be opened from the outside of the multi tool without opening the pliers, which allows for them to have a better grip.
The best feature of the Victorinox SwissTool RS is that the one-hand usage of this multi tool. To open the tools, you just have to slide the tab and the tool springs open and locks into place. Users brag about the fact that they don't have to deal with one tool just to get to another tool. It makes the Victorinox SwissTool RS convenient, as well as efficient.
Firefighter Multi Tool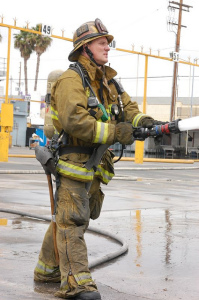 For those that use multi tools professionally, like firefighters, being able to get to a tool quickly can mostly likely be the difference between life and death. For example, if the situation arises where you need to cut a victim's seat belt quickly to get them out of a car that is smoking and flaming, you definitely would need a multi tool where you can get to the seatbelt cutter as quickly as possible. Moreover, firefighters only need one hand to utilize the seatbelt cutter, saving valuable time.
The Victorinox SwissTool RS has a locking mechanism. What this means is that if you want to put the tools back into the handle, you will have to release the lock. This feature is ideal to keep you safe, especially when you are using the saw. The efficiency of this multi tool is in a class by itself. There are several different sizes of screwdriver and wire tools in this multi tool. Instead of you have to purchase each one individually or buying more than one multi tool, the Victorinox SwissTool RS has everything you need in one product.
Victorinox Quality
The Victorinox SwissTool RS in constructed with high-quality, heavy duty stainless steel that makes it durable and dependable. Because of the quality of the Victorinox SwissTool RS, this multi tool can be used by many professions.
This multi tool is well worth the extra money that it costs. With its durability and sturdiness, you will definitely get your money's worth when you buy the Victorinox SwissTool RS.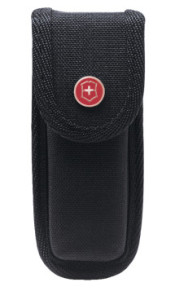 Bottom Line
The bottom line is that the Victorinox SwissTool RS is one of, if not the best, multi tool on the market today. This is no surprise seeing that it is made by the folks at Swiss Army. This multi tool is strong enough to be used by professionals, like firefighters and the military, and yet, it is definitely a favorite of everyday people.
This multi tool comes highly recommended by those that have purchased it. If you are looking for a multi tool that does everything you want and more, this is the one. It might cost a little more than what you would pay on average for a multi tool. But from the ones that have purchased it, they will simply tell you that the Victorinox SwissTool RS will pay for itself in usefulness, and more important, it will last a very long time.