The Best Wire & Cable Strippers Tool
One tool that seems to be everywhere, in multi-tools and as its own separate tool, is the wire and cable stripper. They have a very specific purpose and if you choose to use the wrong type, you could end up with the severing wire rather than stripping. That is why you need to be careful and choose only the best wire and cable stripper tools for the job at hand.
Jump To> Wire & Cable Stripper Reviews
What Makes the Best Wire Stripper?
When it comes to wire strippers, precision is the key. If you are working with a wire and you happen to cut too deep into the plastic sheath, you may end up cutting a wire that should not have been cut. That is why there are so many size options on a wire stripping tool. Some of them also have numbers written so that you know ahead of time that it is the right size hole for the wire you have in your hand.
Wire strippers are designed to be easier to use than scraping/ripping the sheath off with a razor or other sharp object. There are different sizes available and all should be sharp enough to get through the plastic, but not to the point that it damages the delicate wire(s) inside.
Who Uses Wire Strippers?
Wire strippers were originally designed for use by an electrician. Over time, as more and more people began using them for simple repairs to wires around their home, more basic tools hit the market. Now, you can find a basic wire stripper tool in many multi-tools.
This type of wire stripping tool is not designed for the heavy-duty use that an electrician may need. They are basic cutters and strippers that leave room for error, something that an electrician cannot afford to risk. For that reason, a true electrician or handyman may opt only to have the best wire strippers.
What Other Tools Come with a Wire Stripper?
Wire strippers may include cable strippers and wire crimpers. They have a variety of different sized holes for a variety of wires. Perhaps the easiest way for you to gain an understanding of what a true electrical wire stripper has available; you should take a look at these wire strippers. Below are all popular among those who deal with wire on a frequent basis.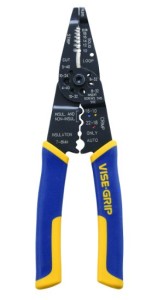 This Irwin wire stripper tool is 8 inches of wire stripping power. It has everything you need in one nickel chromium steel tool. It is shaped like a pair of pliers and provides you with a wire tool that can cut bolts to size and leave a perfect lead thread. It can also crimp both insulated and non-insulated terminals. The thin, pointed plier style nose also allows you to pull and loop wires easily. The handle is also designed for comfort with its ProTouch grip. Read More Here⇒

This wire stripper is able to self-adjust to control the length of wire core stripped. It is made of the same durable nickel chromium steel that you expect from IRWIN. It can strip wires from 10-24 AWG. It gives you easy control with a stopper that prevents it from cutting too deep into the wires. If you need a precision cut because the automatic sizes do not work, there is a swivel knob on it that allows you to fine tune size. The vice grip wire stripper has the IRWIN lifetime guarantee so that you know it is built to last. Read More About The Vice Grip Stripper Here⇒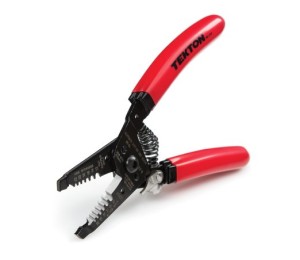 This basic wire cutting/stripping tool is made to improve your leverage and maintain your comfort while cutting delicate wires. It has a spring-loaded hinge that will self-open to ease the stress your hand may experience when using other tools. It can cut solid and stranded wires from 10-20 AWG as well as cut some screws. There is also a looping hole to bend wire ends so that they fit easily around screw terminals. Read More On Tekton Here⇒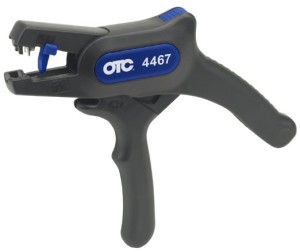 This is an automatic wire stripper that can adjust to different gauge wires. It uses steel blades to give it strength and durability. The small diameter of its tip allows you to get into even tight areas. You can adjust the stripping depth if you need even more control. It is made of reinforced fiberglass and it is lightweight. When not in use, it can be locked in a closed position to save space. Read More Here⇒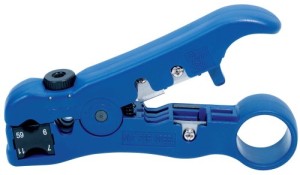 This is a universal cutter/stripper that works for flat or rounded cables. This coaxial cable stripper promises to make dealing with your home's cable connections easier than ever because of its adjustable blade cutting depth. It is ideal for the data cables that make your smart home even smarter. Read More Here⇒