Review of Leatherman Warranty
We consider the warranty that comes with a multi-tool one of the top multi-tool purchasing factors. After all who wants to spend upwards of a $100 on a multi-tool that when put through harsh conditions could break? Not us! However, most reputable multi-tools in marketplace today come with decent warranties. This is what sets a $100 multi-tool apart from a $40 or less multi-tool. This is not to say that you can't find a great multi-tool at a great price, but it does come back to you get what you pay for. 
Each manufacturer is slightly different in warranty duration, coverage, and location, so be sure to read through the warranty guidelines thoroughly. In this post we'll give you the background information on the top manufactures, and links on where you can find further information as well as the warrant claim procedures.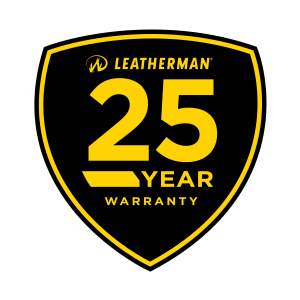 Leatherman Warranty Review: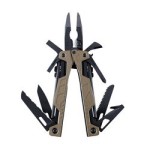 Leatherman is a huge name in the multi-tool industry and for good cause. To my knowledge, all Leatherman products come with a 25 year warranty. I remember awhile back some buzz that was circulating the internet in regards to Leatherman unable to replace specific models. Turns out, the reason Leatherman won't replace a multi-tool is if that multi-tool is no longer in production. This doesn't mean that the owner of a now broken or defective Leatherman is just left out to dry. Oh no, Leatherman rises to the occasion and will replace the discontinued broken model that you sent in with the newer model. Somehow this angers people, but for myself, I would be more than happy to receive a newer improved model. Here is a particular article that the consumerist has on their website address a Leatherman Warranty Claim in which explains this process in details.
In regards to Leatherman, I can speak from experience. As you will read in other places on this site, my first multi-tool was the Leatherman Super Tool. It went everywhere with me, and got me out of plenty of tight spots. After owning my Super Tool for more than 15 years (can't remember the exact date after all those years) I snapped the main stainless steel blade right in half. Strangely enough, I wasn't putting the blade under any significant stress. The tool was sitting blade open on the seat of boat, in rough water, and fell from the seat to the deck and snapped. At the time, I thought to myself, well its been a great 15 years, I'd say I got my money worth on that item. Because I had nothing to lose, I decided to research online and found Leathermans Warrany Claim Procedure.  I printed the document, signed and shipped it away. Lo and behold, Leatherman sent me a brand new Super Tool. I was blown away by this customer service. My experience as well as others is a testament to the Leatherman name, as well as how well they stand behind their products.
Gerber Multi Tool Warranty Review: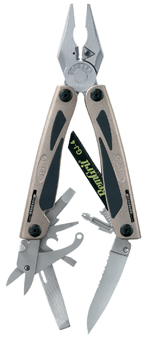 Gerber's warranty policy is on par with Leatherman, outstanding. Although, I do not have personal experience with Gerber, a quick browse through the multi-tool forums prove this point. I have ran across many owners of Gerber multi-tool who, like myself, figured, they had nothing to lose by sending in a broken multi-tool and sure enough a brand new tool arrives in the mail. In most cases with Leatherman and Gerber alike it is often cheaper to send a brand new (possibly even newer model) than it is to replace whatever may be broken.
More Gerber Warranty Information
Victorinox Warranty Review: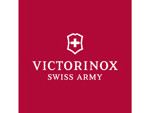 Victorinox, the pioneer of the early multi-tools, is Swiss Army. Victorinox has been around since 1884, so needless to say, they have held their own for all these years. As to a warranty, the length of production is an attestation to the quality of their warranty; solid. Swiss army backs their multi-tools with a lifetime warranty and backs it up. The only issue we can find where someone has had an issue with a Victorinox warranty is when multiple tools were sent in. The issue being the entire fees were not covered and a partial payment was request. If you're sending 3 or 4 multi-tools for warranty, I can't help but see justification in asking for a payment. Our Victorinox multi tools.
Swiss Army Warranty Information
SOG Knives Warranty Review: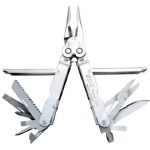 Last but certainly not least on the list of reviewed warranties is SOG Knives, and they surely do not disappoint. SOG offers a lifetime warranty on all of their knives, and honor it. Broken blades are inspected to ensure that the item fits within their specification to replace, and this is understandable. In addition to an outstanding warranty program offered by SOG, they offer a blade sharpening service as well. The minimum charge for blade sharpening is $12. Before any work is done on a defective tool, if requiring the owner to pay for service, the customer is notified ahead of proceeding. Therefore, you know what you're getting yourself into with a warranty claim with SOG
Conclusion:
The top brands in the multi-tool marketplace take pride in their craftsmanship and are willing to back it up with an outstanding warranty. The amount of people who have had a pleasant experience in dealing with a warranty claim with the aforementioned firms, significantly outweighs those that have not. Most times that a warranty claim is denied, or there is any issue at all, it is simply a lack of understanding by the client themselves. In closing, do not be duped into buying a cheap multi-tool for the simple fact it is cheap. You get what you pay for, and those that you pay a premium for usually come with a warranty that warrants the higher price.