How To Clean A Swiss Army Knife
Having a Swiss Army Knife is not just saying to the world you are ready to tinker with anything but is also shouting out loud that you have one of the best pocket knives available. A Swiss Army Knife is not just a pocket knife but considered as a status symbol as well. Karl Elsener, the inventor of the knife was commissioned by the Swiss army in 1884 to develop a tool that is compact, sturdy and reliable, thus the invention of the Swiss Army Knife. Something like this transcends wars and soldiers. The ordinary citizen of today often needs some handy multi-tool in his pocket.
Jump To> Swiss Army Fieldmaster Review
Even a trusty companion like this, which has a lifetime warranty, still needs care and cleaning. It does not mean that if the tool is backed up by a lifetime warranty you should not take care of it anymore. For you to maximize the benefits of using your Swiss knife, you should care for it as well.
How Does One Clean a Swiss Army Knife?

Before you start, take out the toothpick. Use the tip of the toothpick the clean hard to reach areas of the knife.
You only need a couple of things for you to properly clean and take care of your knife: clean cloth, warm water in a basin, lubricating oil, knife sharpener. It is recommended that you use Hoppe's Lubrication Oil for lubricating and Victorinox knife sharpener for the blades.
To clean the knife, open and close the blades several times while dipped in warm water. This will let the joints move easier. Repeat the process for every tool on the knife. For models with batteries make sure you remove the batteries first before dipping the knife in water. Let the knife dry out the excess water by wiping it with cloth or fanning out the excess water. You can also just let it dry out on its own. Open each tool and wipe the excess water with a clean cloth. It is also good to shake the knife to get excess water out. Bring out all the tools and shake the knife to get the water out. Wipe the knife again with a clean cloth. To wipe hard to reach areas you can also use cotton buds (Q-tips).
Once the knife is dry, place small drops of oil in between the blades. Place a drop of oil on surfaces which have friction on them like where the knife and the housing body are joined. Make sure you use proper oil for lubrication. There are some oils which instead of lubricating the knife make it harder for you to bring out the tools because it will make the joints stickier. Use Multi-Tool Oil and not cooking oil or baby oils. You let the oil get inside the knife by moving the blades and other tools back and forth.
The high-quality steel needs to be polished and sharpened every now and then. To sharpen the knife, use a whetstone or grinding wheel. At a 15-20 degree angle, sharpen the knife. You can also use a Victorinox knife sharpener to sharpen both the normal and serrated blades. If for some reason you are in a pinch, without a knife sharpener, there are a few ways to sharpen a knife without a sharpener.
Although small and compact, do not be deceived by the size to functionality ratio of this multi-tool set. This is an incredible all in one compact tool set. It has 16 stainless tools which are reliable and needed for daily use of any individual. Albeit not a standard multi-tool most are used to; it is a good buy for anyone and everyone.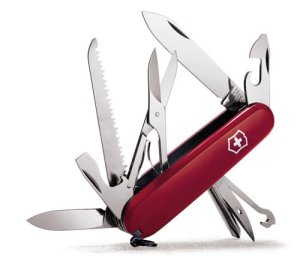 Product Features
Product Dimesnions: 7 x 5.2 x 1 inches
Item Weight: 3.5 ounces
Tool Functions: a large knife blade, small knife blade, can opener, small screwdriver, bottle opener, large screwdriver, wire stripper, wood saw, scissors, reamer, sewing eye, Phillips screwdriver, hook, toothpick, tweezers, and key ring.
Warranty: Lifetime
What's Unique About the Fieldmaster?
Victorinox is one of the most trusted brands that carry different kinds of Swiss army knives. What's unique about this particular model is that it is not too big or too small. The size is just about right for your pocket. The weight at 3.5 ounces is not too heavy. You can also place it on your belt by using a clip pouch to still keep it handy and attached to your body. This particular model has the necessary essential tools needed for both outdoors or indoors.
Although it doesn't have the pliers that a mechanic would need for his car, it still is a great tool to keep in your car. If you find yourself needing pliers check out the Leatherman Wave or for Vise-Grip type pliers, check out the Leatherman Crunch.

Why Buy The Fieldmaster 
It has the best mix of tools – It is compact and yet has an ample amount of tools needed for all sorts of needs.
Size to Functionality Ratio – Size matters when it comes to getting the best out of tools! The bigger the tool, the better it functions. But in this case, size doesn't matter when it comes to maximizing the functionality of the tools. You still get great features and functionality with a compact sized device.
Quality Material – The stainless steel material is not just quality made but also greatly designed. The build of the knife is amazing which can withstand the elements.
Name – You also buy it because of its name. It is not just a multi-tool set, it is also a status symbol. Having a Victorinox Swiss Army Knife is not the same as getting a cheap multi-tool set on the market.
Lifetime Warranty – You are backed up with lifetime support on defects.
Like the Swiss Army Fieldmaster?  Read Owner Reviews Here⇒