How to Wear a Boot or Shoe Knife
How to Wear Boot Knives
Ideally created for protection, shoe knives and boot knives are constructed to fit in the average calf high boot. In most cases, a shoe knife or boot knife is made like a dagger with a leather sheath on top to make getting to it quickly if necessary. Most referred to as boot knives, they can also fit into purses, bags, and glove compartments. A number of them also come with a shoulder harness to wear under a jacket, coat, or blazer, or a sheath to attach to your belt or ankle boot.
Jump To> Boot Knife Reviews
One of the biggest advantages of owning a boot knife is that it is concealable, and it is ideal for self-defense. Moreover, because boot knives are typically constructed with a slim blade and handle, you will be suitable for everyday carry.
Shoe and boot knives are used by and for:
Military
Self Defense
Martial Arts
Law Enforcement
Camping
Hunting
Fishing
To give you a better idea of the shoe knives and boot knives on the market today, below are product reviews on a few of the more popular products.
Top-Rated Boot & Shoe Knives For Sale
This boot knife has a blade that is made of AUS-6 stainless steel with a black coating that protects it from rust and corrosion. The checkered, rubber handle allows its user to get a good grip on it to prevent it from slipping around when you are using it.
The United Cutlery UC0026BS comes with a sheath that enables you to wear it in your boot or on your waist. This boot knife can be easily accessible in an emergency. Moreover, if you are looking to purchase an inexpensive one, this is it.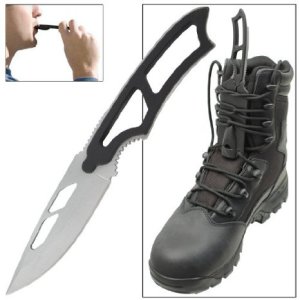 The first thing you will notice about this boot knife that sets it apart from its peers is the design. The blade and handle are all one piece, which is referred to as full tang. The blade is also made of 440 stainless steel, which is a level of stainless steel used to construct some of the sharpest and strongest knives on the market.
For added security, there is a whistle built inside of the handle. It comes with its own sheath for wearing in your boot or waist, as well a 35-inch paracord. This boot knife is priced low, therefore, making it an extremely affordable knife. More Owner Review Here⇒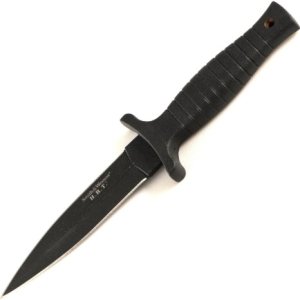 Smith & Wesson is famous for constructing high-quality guns. Now on the market, this well-known company has created an item that can be carried every day for protection. The SWHRT boot knife is made of 440C stainless steel, one of the highest grades of stainless steel in the 440 series. The blade is double-edged and spear-shaped for sharpness and to make cutting easier at point of contact. Many buyers of this product stated that it was sharp right out of the box.
The black coating on the blade protects this high-grade stainless from corrosion and damage. When you grip the handle, you will notice that is it made of aluminum instead of rubber-like your typical boot knife. This gives it a nicer balance and makes it sturdier when you are using it with one hand. The sheath that comes with the Smith & Wesson SWHRT lets you fit it into your boot or your belt. Users have praised this boot knife for the fact that wearing the sheath in the boot with the knife in it is quite comfortable. More Owner Reviews⇒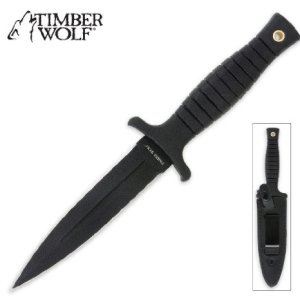 One of the first things you will notice, and most likely appreciate, about the Timber Wolf Tactical Boot Knife is that the blade is longer than other boot knives at 5 inches. You will also notice that, unlike other boot knives, this one comes with a lanyard ring so that you can wear it around your neck.
The 5-inch blade on the Timber Wolf Tactical Boot Knife is also double-edged and high-quality stainless steel. The rubber hand lets you have a good grip on it when you need to pull it out of the sheath from your boot or your waist. The majority of those that purchased this knife are happy with it, citing the strong, sharp blade. It is averaged priced so you can afford to buy it for whatever purpose you need it for. Read More Reviews Here⇒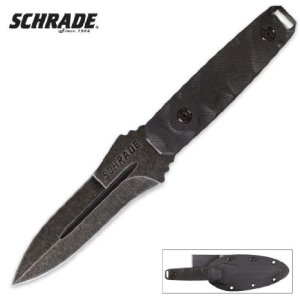 For more than 25 years, Taylor Brands has been producing some of the best, high-quality stainless steel knives on the market. For the price and style of this one, you can't go wrong.
The Schrade SCHF20 Full Tang Fixed Blade with Sheath looks a lot different than your average boot knife. The blade has a stonewashed finish, due to being constructed of 8Cr13MoV high carbon stainless steel. To add to the integrity of the knife, the blade is double-edged and spear-shaped to guarantee sharpness from the first time of usage. This is sure to limit the time you spend sharpening your knife.
To separate itself again with the style and design of the blade, the Schrade SCHF20 Full Tang Fixed Blade possesses a jimping and blood groove. Not too shabby, when you consider that the blade on this boot knife is 9 inches long, much longer than the blade on most boot knives.
The G-10 handle is constructed with notches and slabs that many users comment that it gives this boot knife a nice grip. Like a few others, there is a lanyard ring to wear around the neck. There is a sheath that comes with it. However, it doesn't lock or snap the knife into place, and many buyers have said that they are concerned with it falling out when it is worn on the waist. If you were it in your boot, then it is not that big of a deal. More Reviews of Schrade Here⇒
Shoe knives and boot knives are just what the name suggests: knives that can be concealed in your ankle boot or high top shoe. Basically, for protection, they are easy to hide and very simple to use. All it takes is for you to pull the boot knife out of the sheath for any situation you might need to use it in.