Best Skinning Knife-Our Favorite Hunting Knives
Commonly used by deer hunters and butchers, a skinning knife has a sweeping handle and curved tip that can easily separate the skin from the meat without damaging the muscle or accidentally slicing away too much meat. Typically, skinning knives come with stainless steel or surgical steel blades, which have reputations for holding a sharp edge.
Jump To> Skinning Knife Reviews
What Makes The Best Skinning Knife?
Although, due to the hardness of these blade materials, it can be difficult to re-sharpen the blades if you can't get to a knife sharpener, for instance, if you are on a camping or deer hunting trip and all you have is a whetstone or diamond stone. This is basically why most deer hunters prefer skinning knives constructed with carbon steel blades.
To successfully remove the skin from big game animals, hunters use skinning knives because the blades are thin, short, and curved, allowing for the hunters to keep a firm grip while cutting the skin away from the game meat. Because of this, the blades need to be not only sharp but hold an edge for a long period of time.
Reviews For Some of the Best Skinning Knives or Hunting Knives
Reading through skinning knife reviews for the Outdoor Edge Swingblaze SZ-20N Swingblade you'll quickly see you get TWO knives in ONE. It is no surprise that this skinning knife from Outdoor Edge Swingblade is its best seller. It is also a very popular item sold on infomercials (As Seen on TV).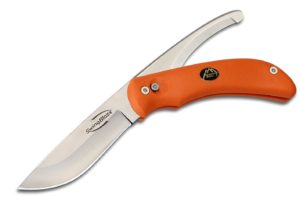 With just a push of the lock button, this drop point skinning knife "swings" into a gutting blade that is made with extra sharp AUS-8 stainless steel that lets you separate the skin and the meat of any animals without cutting organs or hair due to superior edge retention. The rubberized Kraton handle lets you have a firm grip when using it. The sheath that comes with the Outdoor Edge Swingblaze SZ-20N Swingblade is constructed with a sturdy nylon. Reviews for this skinning knife are great, purchasers saying that they are very happy with its performance. More Reviews Here⇒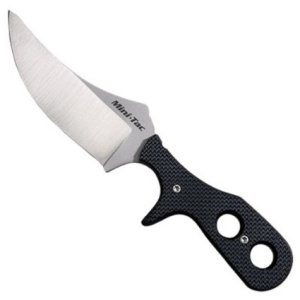 One feature that seems to be a plus for users is the fact that this skinning knife is so lightweight (it only weighs approximately 2 oz.). You have a choice of carrying it all day, every day, in your pocket, or you can wear it around your neck with a lanyard. The curved shaped blade is constructed with Japanese AUS 8A stainless steel, which makes the blade razor sharp and tough, even though this skinning knife is smaller than other skinning knives out on the market.
This knife is so versatile,

it has been purchased by individuals looking to buy a rescue or utility knife. Users that have large hands, typically men, have stated in skinning knife reviews that even though this knife is small, it fits in their hand perfectly. This is also due to the G-10 handle that includes Griv-Ex Style handle scales, which gives you an aggressive grip surface. It also helps you to control the knife and keeps it from twisting and rolling when you are cutting or caping. More Owner Reviews Here⇒
When you think of leading brand names in knives, Victorinox definitely comes to mind. Especially, since it is part of the same company that gave us the Swiss Army knife. Getting into the line of skinning knives, Victorinox has come up with the Victorinox Wide Skinning Knife 40536. The curved blade is constructed with high carbon for ultimate sharpness, edge retention, and to protect against deterioration.


The black fibrox handle is textured and ergonomic so that it will not slip from your hand or move around when you are using it. It helps to give you a steadier, firmer grip so you will be able to skin your animal without cutting the fur or muscle. Skinning knife reviews for the Victorinox Wide Skinning Knife 40536 are good, with purchasers raving about the quality of this knife, as well as the fact that it is not expensive.
With all of the skinning knives on the market, if you are a hunter or butcher, you will want one that lets you skin or cut your animal without too much exertion. You should be looking for one that lets you cut as close to the skin as possible, separating the meat from the rest of the animal.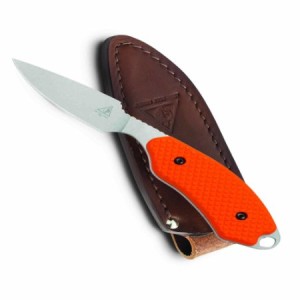 Developed by Benchmade, one the top names in sporting cutlery, the Lone Wolf Knives are constructed for long-lasting durability for any outdoor activity, including deer hunting and camping. To protect your skinning/hunting knife, it comes with a stylish leather sheath.
The Lone Wolf Mountaineer Skinner and Caper Hunting Knife Combo with Leather Sheath (Black) is one of the most depended on skinning knives available. This is because the design includes suggestions from professional outdoorsmen who

understand what it takes to make a high-quality skinning knife. This skinning knife possesses the perfect combination of contemporary technology with traditional styling. The uniquely shaped handle and blade are designed for a firm grip and complete control when skinning and caping an animal. There is also a jimping to help with grip and control as well.
The blade is made with N680 Drop Point Stainless Steel, which protects the blade from corrosion and wearing out, as well as keeping a keen edge that allows you to be able to skin animals without having to constantly sharpen this skinning knife over and over again. Skinning knife reviews on the Lone Wolf Mountaineer Skinner and Caper Hunting Knife Combo with Leather Sheath (Black) are very positive, stating that this skinning knife does exactly what it claims to do. One factor to take into consideration is that this skinning knife is a tad expensive and priced three to four times more than the average skinning knife. Owner Reviews Here⇒
Check out some of the top rated skinning knives below: