Owning an EDC knife (every day carry) is an experience in ways similar to owning a smartphone – yes, you wouldn't believe it, but following the saying – if everything you have is a hammer, all problems look like nails – so too an EDC can change your perspective on what the knife can do for you. Contrary to popular belief, an EDC is anything but a weapon, a self-defense item in your pocket; what it actually is, is a multi-purpose tool that will help you manage a lot of different situations. Because it does not offer multiple different tools in one, we cannot consider it the best multi-tool but certainly, an EDC knife serves its purpose.
Jump To> EDC Knife Reviews
For instance, if you work in a warehouse, where you open boxes all the time, the knife will become an integral part of your life, just like any other item you use every day. And, that can be so for many other people, no matter what the reason for their carry might be.
While browsing online can give you an idea about the materials, the types of steel that the knives are made out of, in reality, that does little to give you a hands-on feel for the knife, which is most often what drives one to purchase. At any rate, in this article, we'll try to pinpoint you to some models that we have found to be durable, compact, to have an opening mechanism that is sturdy and reliable and also, knives that feel good in the hand, look good, and are as useful as possible.
So, let's look at a few of the most palatable models to be found online and hopefully give you an idea whom these models might be best for.
Best EDC Knife- Our Top Picks 
Now, one thing that always has to be considered when looking into an EDC purchase is the appearance. Yes, it might not be the most important, however, a knife is still a knife and people tend to have a knee-jerk reaction especially when it comes to unique pocket knives. The Candiru is the type of knife that won't go unnoticed, which, for many of us might not be a good thing. The blade of the knife is exposed even when closed and therefore, it might look like a menace. However, what the knife is best for is cutting materials such as cardboard, branches, and relatively small objects with precision, given the shape and assembly, it's a great fisherman's knife, as the blade is small and thus fit for accurate jobs that don't require a lot of strength.


The Aegis is another small bladed knife, however the opening mechanism, the stud on the blade, feels in the hand is much superior to the ESEE. It's a knife that grips so well that it might be best used for cutting via thrusting, so this can be great for jobs where you need to have more power and thrust rather than finesse. Also, it looks very high tech and very army like, with protrusions on the body to help the grip and with a 3-ounce total weight. It's definitely a winner. Read More Here⇒


Sometimes, especially when you're carrying a wallet, a smartphone, maybe some other device plus keys, it can really get heavy in your pockets. Therefore, a sturdy, well crafted EDC that is really light, yet still strong enough to be a true EDC, is what it's all about. The Manix 2 embodies all of those qualities; it is very light, at 3 ounces. However, the blade is relatively large, over 3 inches, and the make is so highly crafted. There is even a protrusion on the blade, to cut some more weight, which can be used to dislodge nails if you wanted to, but the main uses are classic EDC uses. Balance and hand feel wise, you got to get used to it, as it really feels very light, but overall, it is a well-produced knife. Check out more reviews of the Manix here.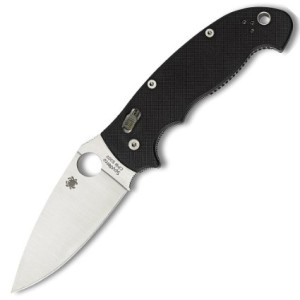 Benchmade Mini Griptillian 555 HG
While this is not necessarily at the top of the best EDCs out there, the Benchmade Mini Griptillian 555hg is definitely a winner, in many of the areas that had gotten me interested in EDCs. For instance, ease of carrying; the Mini has a thumb hole, it has a handle so you can carry it attached to an item of clothing and it is small enough that it can be pocketed. The blade steel is one of the best. Tough, corrosion resistant, easy to clean, almost impervious to discoloration and the overall hand feel is one of the best. Also, looks-wise, for those that love a studded look (rivet like) this is the winner for sure. While I am left-handed, and I have come to use EDCs to my right, just because most of them don't feel natural in the left-hand, this is an ambidextrous knife and with a blade under 3-inches, it's safe to carry everywhere type of knife. The only issue I can find with it is that the pocket clip has coarse material on the inside, which can damage less resistant materials, but on tough denim, it won't make a scratch. Read More Here ⇒


Spyderco Dragonfly II in ZDP-189
The Spyderco Dragonfly II in ZDP-189is one of the best EDCs because it simply looks harmless, but in truth, it's one of the best EDCs out there. It's strong, nifty, and it almost reminds me of one of those old-school shaving blades.  Most blades are made out of some type of steel that is better than most, say kitchen type knives, but this one goes a step forward. The steel in this is 20% chromium, which means that the blade can withstand significant pressure without denting, while also it ensures that the knife is basically corrosion free. In terms of pricing, you'll find it to be somewhere in the middle of the road, which, for all intents and purposes, and for the quality, durability, and the ease of carrying it provides, is all one needs. Certainly, it's also an acquired taste; this knife doesn't look very "manly" very high tech, but once you get to use it, it's going to be the next best thing in your pocket!