Leatherman Super Tool 300 Review
Where do we start with the Leatherman Super Tool? This is one of my favorite of multi-tools. The Super Tool is reminiscent of the original Leatherman multi-tool, and they haven't wavered with the new Super Tool 300; this thing is a stud. Some even call this multi-tool the Chuck Noris of multi-tools, this is classic with a solid build. The one downside that I personally don't like, after comparing the Super Tool to some of the newer models is that the tools are not outside accessible. In other words, the tool must be opened up to access the onboard tools. This feature is especially seen in the Leatherman OHT.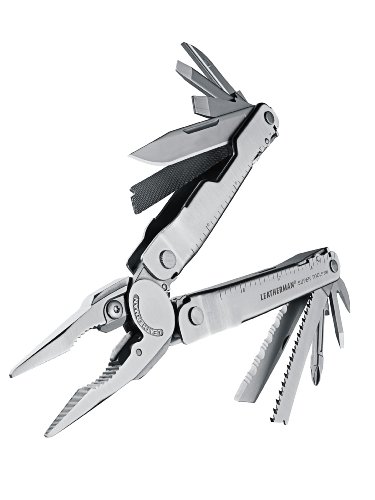 Leatherman Super Tool 300 Review:
Needlenose/Regular Pliers
Replaceable Hard and Regular Wire Cutters
Stranded Wire Cutters
Electrical Crimper (check out another option for an electricians multi-tool)
Wire Stripper
Saw
Awl: Tread Loop
9 Inch Ruler
Can/Bottle Opener
Wood/Metal File
Small/Medium/Large Screwdriver
Phillips Screwdriver
Who is the Leatherman SuperTool for?
The blue collar, simple man, who needs a multi-tool to enable him to continue tinkering with whatever he tinkers with. Thats right, this tool is for the all around person who doesn't want to spend a fortune on a multi-tool, but wants to have as many tools as possible at the ready, on his hip. The SuperTool is not for someone who wants a mini multi tool, as it is on the larger side when closed 4.5 inches. The SuperTool, as we have mentioned is a beast when it comes to construction, adding to the weight aspect at 9.6 oz., which makes this multi-tool considered full-size. Adding to the point that we made that this tool is for the hardworking tradesman, is the outside design of the Super Tool. The handle of the Super Tool has cutouts allowing tool access while wearing gloves.


SuperTool Owner Reviews 
This is a solid built tool, with very little frills, but very practical features. With over 520 Reviews on  Amazon, it has received a rating of 4.7 out of 5 Stars. That is nearly perfect! This goes to show that those who have a Leatherman Super Tool absolutely love it. As mentioned in the warranty review, I now have this tool because my original Leatherman Super Tool was sent back for a warranty claim. Because the original Super Tool has been discontinued, I received the Super  Tool 300. This is also a testament to Leatherman's warranty policy. Read Those Owner Reviews Here⇒
Here is an awesome comparison video: