When seeking to purchase a multi tool, you want to one that will be a combination of strength and durability. Depending on how you will be using your new multi tool, you may want a multi tool that can be operated with one hand. This makes the work you are doing with your multi tool more precise and accurate. Furthermore, if your profession, such as first responders and firefighters, requires you to use a multi tool, having one that possesses one hand capabilities can make your job easier.
From one of the top manufacturers of multi tools, comes an innovative product that has become one of the top sellers. The Leatherman OHT with Sheath, Coyote Tan sets itself apart from its peer with having the distinction of being the only full-size multi tool that is also a one hand tool (OHT) on today's market.
What multi tool users for years have wanted, one hand opening of blades and pliers, has now been comprised into one product. This item allows you to open any tool with one hand. Furthermore, with your safety in mind, the locking mechanism locks the tool into place until you release it.
Leatherman OHT Review
Constructed with the military in mind, the Leatherman OHT with Sheath, Coyote Tan is used by individuals in other professions, including:
First Responders
Hunters- Other Top Rated Hunting Knives
Mechanics
Seafarers
Fishermen
Law Enforcement
Construction Workers
Carpenters
Campers
Outdoor Adventurists
Even if you are not a person who would need a multi tool for professional reasons, you can still purchase this multi-facet multi tool for a number of usages, including DIY home remodeling projects. A gentleman that purchased the multi tool stated on a Leatherman OHT review board that, "I don't leave my house without my Leatherman OHT with Sheath, Coyote Tan. You will be surprise how often you will use one of the many tools on a daily basis."
Leatherman OHT Features
This multi tool is full of features that can be used for a wide selection of tasks. When you purchase your Leatherman OHT with Sheath, Coyote Tan you will find:
Pliers (Regular and Needlenose)
Knives (Regular and Serrated)
Saw
Strap Cutter
Cleaning Rod/Brush
Can Opener
Bottle Opener
Wrench
Screwdrivers (Small, Medium, Large, Phillips)
Lanyard Ring
Although this is a 100% one-hand tool, you can still get a great grip (thanks to being spring loaded- more on assisted opening knives) without having to constantly keep readjusting your hand when using the pliers and wire cutters. To make it easy to see which handle houses which tools, there are pictures of the tools engraved on the handle.
One of the many great features of the Leatherman OHT is, unlike many other multi tools, you have the ability to access the tools outside of the product, without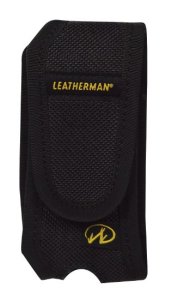 having to open the pliers. For example, if you want to use the serrated knife, you can just open it from the handle. You don't have to open one tool to get to another one.
The sheath that comes with the OHT is made of durable and sturdy nylon and has an attachment strap on the backside. Additionally, there is a storage part inside for accessories like extra bits. Even if you decide not to use the sheath, you can easily carry it around in your pocket, pack, or purse, since it is only 4.5 inches.
OHT Ease of Use
The ease of use is what makes this Leatherman one of the best multi tools available. You have outside access to any tool you need, at any time. The pictures of the tools on each handle takes out the guessing of where each tool is located. In a crisis, this is of the utmost importance, especially for those that use this multi tool in a profession where every second counts.
One Handed Tool Quality
The Leatherman OHT with Sheath, Coyote Tan is made with tools that are resilient and long-lasting. The blades are constructed with 420 HC stainless steel, a high carbon stainless steel that is one of the top materials for making knives that don't rust or bend or have to be sharpened often. Some of the tools are also constructed with 154CM stainless steel that guarantees against corrosion. Moreover, it is tougher that 420 stainless steel and will hold its edge much longer.
The locking of each tool when it is open is what has made this multi tool very popular. It doesn't become understandable how necessary this is, until you starting using the different tools. For example, if you are using the saw, you don't want it to be folding and unfolding while you are cutting, leading to a possible injury.
To add a little style to this multi tool, the handles of the Leatherman OHT with Sheath are in a nice shade of coyote tan. A female Leatherman OHT review writer stated that the style of this multi tool is what drew her into purchasing one. But it hasn't been just women that have been moved by the stylish black and tan brown multi tool. Several purchasers have said that they bought the Leatherman OHT with Sheath, Coyote Tan for their sons. Read More Owner Reviews⇒
Also Available In These Colors: Click Below to See More Images
Bottom Line
If you are thinking about or need to buy a multi tool, you can't go wrong with the Leatherman OHT with Sheath, Coyote Tan. This pioneering product has blades and other tools that are made with the heaviest and strongest stainless steel, as well as being the only one hand tool (OHT) on the market. For professionals and non-professionals, this is one of, if not the best, features that make this multi tool a great product to own. It also makes the Leatherman OHT with Sheath, Coyote Tan the top choice in multi tools for you. Read More Owner Reviews⇒