The sight of the Leatherman Crunch alone is enough to set this multi-tool apart from others. Lets face it, you either have a use for a vice grip or your don't. But before you go off and say, oh heck, I don't need any vice grips on my multi-tool, I need pliers. What if those pliers could be vice grips, AND they could fold up and go in your pocket? Well, now the game changes. I must admit, at a first glance, this tool just looks odd. Although different looking, it does have its fair share of practical uses.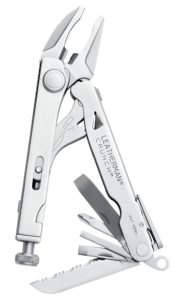 Leatherman Crunch Review:
Regular & Locking Pliers: Comes more in handy than you might think
Wire Stripper
420HC Steel Serrated Knife
8 Inch Ruler
Pin Vice: Perfect for holding a fishing hook in the grove
Bottle Opener
Wood/Metal File
1/4″ Hex Driver
Phillips Screwdriver
Small/Medium/Large Screwdriver
Official Leatherman Crunch Site 



So we have established the difference with the locking pliers, or what I call vice grips, but what about the rest of the tool? The rest of the tool is actually quite impressive. First and foremost, the Crunch is very light and compact. Weighing in at 6.9 oz and measuring 4 inches, the Crunch will easily work as an everyday carry tool. One aspect that may be a deciding factor for some individuals is the fact that the tools are not externally accessible. In other words, the multi-tool must be fully opened to access a knife, screw driver, etc. Therefore, this is definitely not a One Hand Tool.
It goes without saying, the Crunch is for someone who would need to use locking pliers regularly. Off the top of my mind, I think this is the perfect tool for a plumber, electrician or someone who may need to lock onto bolts and twist. Again, the Crunch's versatility should not be discounted. There are many times I have needed a pair of locking plier to remove a stripped screw, or pry something out of wood. The Crunch being as light and compact as it is makes it perfect for someone working in a trade or everyday carry.
Because the Leatherman Crunch is fairly new on the multi-tool scene, there is lack of reviews compared to other multi tools. Having said that, the over 190 owner reviews we did find were overwhelmingly positive. I think the video review of this multi-tool will do the Crunch more justice.
 Leatherman Crunch Owner Reviews⇒