Gerber DET Multi-Plier 600 Review
The Gerber DET 600 is the epitome of a tactical multi-tool. This goes without saying considering the DET is the only military-spec Explosive Ordinance Disposal (EOD) team tool. Those that are in the military using this tool in the field will probably also appreciate that the Gerber DET is Made in the US of A! Many military personnel claim the DET is the most valuable tool they carry.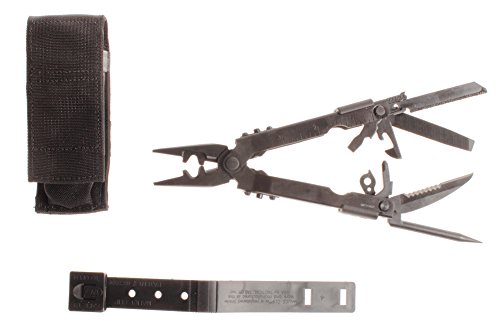 Gerber DET 600 Specs:
Needlenose pliers with blasting cap crimper
Wire Cutter
Wire Crimper
C4 Punch:
RemGrit Saw
Crosspoint Screwdriver
Large flatblade screwdriver
Can Opener
File
Glancing over the specification of the Gerber DET, it's quick to see that a large proportion of the onboard tools are for military or tactical purposes. Another huge selling point for the DET is the flick of the wrist one-handed opening of pliers. This is quite different than the standard muli-tool which require unfolding to access the pliers. Someone in the field under pressure might find this of utmost importance. The DET comes in a non-reflective black finish adding to the stealthiness of the multi-tool. The RemGrip blade is no joke with the ability to cut through parachute cord and the likes with ease.


Who is the the DET 600 for?
By now you can probably guess the DET is best suited for someone in the military/tactical field. Because many tactical based tools were added to the multi-tool, several practical use tools were removed. The DET lacks scissors, drivers etc, that other multi-tools come standard with. However, if you have use for a blasting camp crimper or a c4 punch, then look no farther than the DET. Many also use those to work on their AR-15, which multi-tools have been specifically developed for.
No need to beat a dead horse here, the military/tactical people love the tool. Most people interested in a every day carry or mini multi-tools will not be interested in this tool because it lacks some of the other EDC tools. The DET is also quite heavy to be considered for an every day carry, weighing in at 9 oz and measuring 5 inches closed. The Gerber DET comes with a lifetime warranty that has been put through its paces, living up to the Gerber name. Plus, there is still something to be said for a multi-tool that is made in the USA! Read DET Owner Reviews Here⇒