Gerber 22-41545 Black Diesel Review
If you have ever had a multi-tool blade fold back on your knuckles, much like myself, then this tool is for you. The Gerber Diesel comes equipped with their Saf.T. Plus system, which offers a sliding lock for each tool to help prevent those all to common folding blade accidents. The Diesel is a cross between tactical and everyday use. The major tactical aspect of this tool is the rapid deployment pliers which make accessing the pliers in a hurry a breeze.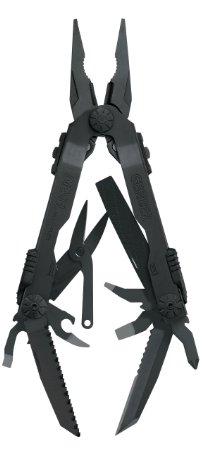 Gerber 22-41545 Black Diesel Specs:
Needlenose Pliers
Wire Cutter
Partially serrated knife blade
Cross Point Screwdriver
Small/Medium/Large Flathead Screwdriver
Can/Bottle Opener
File
Saw
Scissors
Who is the Gerber diesel for?
The Gerber Diesel is for someone who wants a beefier feeling multi-tool that has the ability to fold up just like an everyday carry tool. The stainless steel tools are larger that most other multi-tools, as well as more rugged. The rapid deployment pliers are a nice addition to someone who is constantly flipping between pliers and another tool. Finally, the Diesel is for the accident prone individual. The Saf.T.Plus locking tool mechanism helps to keep those careless accidents in check.



Gerber Black Diesel Owner Review

s
With the beefier feel this is the perfect cross between everyday carry and tactical. Many are calling this a tactical beast. There has been a bit of hesitation with Gerber multi-tools due to a belief that they were much thinner compared to some of its competitiors, but Gerber definitely addressed that and beefed up the Diesel. After all, the multi-tool is named the DIESEL. This is also one of the top multi tools offered by Gerber, giving Leatherman a run for the money. (Read Leatherman Vs Gerber Here) With over 850 reviews on Amazon, this multi-tool has stood the test of time by many different users. The outcome of all that use? 4.4 out of 5, a solid review for a middle of the line multi-tool. The Diesel also rings the cash register at a much lower price point compared to its competitors, usually around the $60 Range.