What Makes The Best OTF Knife?
An OTF knife is an "out-the-front" knife (also called a telescoping or sliding knife), in which the pocket knife has a blade that opens and closes from one end of the handle. This differs from the majority of pocket knives available, since most of them are either just a typical folding knife or a fixed blade knife with no mechanical operation.
Jump To> OTF Knife Reviews
OTF knives can be subdivided into more specific categories:
• Gentlemen's OTF Knives
• Automatic OTF Knives
• Gravity OTF Knives
The knife's blade is released by pressing a button, lever, or other mechanism. Once the mechanism is pressed, the blade comes out of the front of the handle by a spring or another tension device. To retract the blade, the lever, button, etc. is pressed to allow it to slide back into the handle. Called an OTF knife, older names for this item include "angel blade" or "stilettos."
There are many reasons to own an OTF knife. From using it as a letter opener to self-defense, an OTF knife is compact and can be put into a purse, pocket, or backpack. To better understand the features and function of OTF knives, below are product reviews for some of the most popular OTF knives
Some of the Best OTF Knives
Schrade Viper 3, OTF, Black Handle, Black Blade
Among knife connoisseurs, Schrade is known to produce knives with durability and functionality. The Schrade Vipper 3, OTF, Black Handle, Black Blade is no exception. This OTF knife is only cleverly designed, it also comes at an affordable price. The 3.5 inch blade is made with 4036b stainless steel, one of the highest grades in stainless steel. In addition, it is double-edged, spear pointed, and comes out the front of the handle quickly when necessary.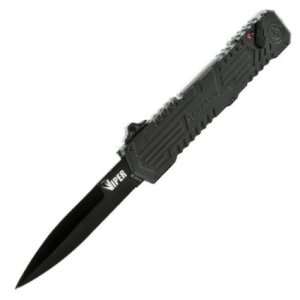 To open the blade, you just have to push the slider on the side of the handle. The aluminum handle is sturdy enough for you to have a strong grip to prevent slipping and moving around. Another feature that makes the blade stay in place is the blade lock on the Schrade Viper 3 OTF. Once the blade is released from the handle, it locks into place and doesn't retract until you release the blade lock and push the slider for the blade to go back into the handle.
Buyers have said on OTF review boards that they have purchased this knife for their wives and girlfriends. This knife is the one to keep in your glove compartment or hutch because the spear tip doubles as a glass breaker. If by some forsaken reason your car is immerged in water or you are in an accident, this can get you out of your vehicle quickly. You can carry it on you with the deep pocket clip. Owner Reviews of the Schrade here⇒
Smith & Wesson OTF Partially Serrated Spear Point Folding Knife
When you see the name Smith & Wesson, you know it is going to be constructed with superior quality. This OTF knife comes with 4116 grade stainless steel blade, one of the highest and most popular grades for making high quality blades for knives. It also has a 40% serrated blade to cut with maximum performance. Similar to other popular OTF knives, the spear tip doubles as a glass breaker. A sliding safety and pocket clip adds to the convenience of this OTF knife.

One of the reasons why OTF knives are so popular is because they are so simple to use. The Smith & Wesson OTF Partially Serrated Spear Point Folding Knife opens with just a push of the slider at the base of the handle. The aluminum handle is sturdy enough to resist wear and tear, but comfortable enough for your hand to get a good grip. For all that you receive with this product, the price is quite reasonable. More Smith & Wesson OTF Reviews⇒
Joker Assisted Open Pocket Knife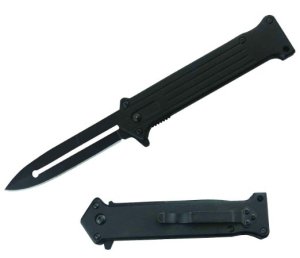 This inexpensive, heavy-duty open pocket knife is named after the Joker in the "Batman" films. The knife has encrypted on the blade " Joker" and "Why So Serious?" This folding knife opens with help from the spring mechanism. To open, just touch the back of the 3.5 inch blade and it opens and locks into place, thanks to a sturdy locking mechanism.
The blade is made with 1045 surgical steel which is carbon-fiber and very sharp.
One thing to note about the Joker Assisted Open Pocket Knife is that this knife actually flips open from the side instead of just coming straight out from the handle like typical OTF knives. The handle is durable and strong due to being made from black powder coated aluminum. The pocket clip is even made with sturdy stainless steel and completely removable. Buyers have stated on review boards that they didn't expect this knife to be of the quality that it is due to the price and were pleasantly surprised. More Reviews Here⇒
Kershaw Ripcord Knife Featuring OTF Deployment System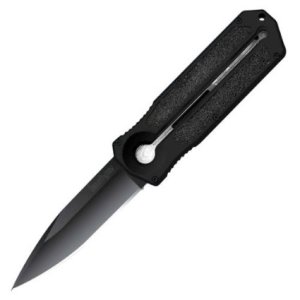 The Kershaw Ripcord Knife possesses a patent design that delivers the same stellar performance as a fixed blade knife. Yet, it is a compact, folding knife with an out-the-front blade for convenient and quick accessibility. When the blade comes out the front of the handle, like with other OTF knives, it locks into place until the locking mechanism is released. The blade is made from durable Sandvik 13C26 stainless steel with a Tungsten DLC coating for sharpness and edge retention. The excellent grip you get is from the anodized aluminum and Trac-Tec inserts.
However, the Kershaw operates a little different than most OTF knives. The belt sheath doubles as the opening/locking device. Some owners say that this gets some getting used to, but after practicing it, it becomes second nature. Others say that it is really simple. You just get a good grip on the handle, and give it a good yank until the knife comes out of the sheath. It also allows for a one-hand quick draw in any emergency situation. Many law enforcement officers stated in OTF reviews that The Kershaw Ripcord Knife serves as their duty knife. It is a tad pricey, however, those that have purchased this knife say that it is most definitely worth every penny. More Kershaw Ripcord OTF Knife Reviews ⇒
OTF knives are compact, convenient, and easy-to-use. Moreover, they are available in a vast array of prices so that you will be able to find one you want and can afford.