Credit Card Multi-Tools & Pocket Knives
The world is always looking for an easier way of doing things and added convenience. That is why we have multi-tools in the first place. They enable a person to carry a lot of tools without having the bulk of a toolbox stuffed into their pants pockets or purse. Perhaps that is why some companies have taken it upon themselves to create a multi-tool that is even smaller than all other multi-tools available. It is a tool that is small enough to fit inside your wallet, the one thing you will never leave home without. Read on to learn more about a credit card multi-tool and what it can do for you.
Jump To > Credit Card Multi-Tool Reviews
What is a Credit Card Multi-Tool?
A credit card tool is exactly what it claims to be. It is a toolkit that is shaped like a basic credit card so that it can fit into your wallet. They have a variety of tools on them, such as flat head screwdrivers, rulers, and letter or box openers. Some may also have a knife and can openers. Regardless of what tool you choose, the options for how you can use it are endless.
Why Do People Have Credit Card Sized Multi-Tools?
Have you ever gone to the store and purchased something that was sealed up in that hard plastic that most items come in nowadays and wished for a way to open it without going home for a knife? If you have a multi-tool on hand, you no longer have to travel home to open up your most recent purchase. That is the selling point that is available to people with a credit card sized multi-tool, only you do not have it weighing down your pockets or your pocketbook. You will also never again have to search for a ruler, which most basic multi-tools do not have on them. This could come in handy if you need a bolt that is the same size as the one you lost and you will never have to go searching through the junk drawer in your home to find a ruler. If you are a person who loves the convenience and lightweight tools, you can have the best of both worlds in one tiny little wallet-sized tool. What more could you ask for?
What Tools Are Available in Credit Card Multi-Tools?
Some of the main tools that are included with a credit card survival tool are screwdrivers in a variety of sizes and rulers. They may also letter openers or bottle openers, can openers, box openers, a sun compass, wrenches, knives and more. They can fulfill all the other aspects of a regular multi-tool, but you will never again have pockets that feel heavier because of it.
Are they Better or Worse than Traditional Multi-Tools?
When you think of buying a traditional multi-tool, you probably question how much it weighs and how large it is when placed inside of your pocket. You may also purchase a multi-tool and then realize that when you need it the most, you left it at home on your dresser or the bathroom counter after you took your last shower. By choosing a credit card multi-tool, you eliminate both of these issues. The tool is only as large as a credit card, without much extra weight added into it, and as an added bonus, as long as you have your billfold or wallet, you have the tool. For some people, both of these things make it a very valuable tool to own, perhaps even more so than a normal multi-tool set. However, in an effort to help you decide for yourself whether it is better or worse, why not read through a few credit card multi tool reviews to decide for yourself if it is worth it or not.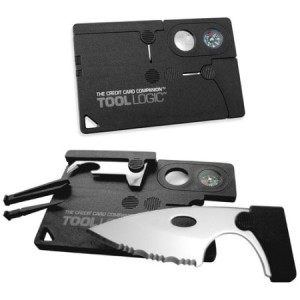 This credit card has 9 tools that include a 2-inch serrated edge steel blade that will cut through most materials with ease. This blade, as well as a pair of tweezers, a toothpick, screwdriver, and an opener, are all removable. There is also a compass, a magnifying glass and a ruler that are easy to access and on the outside of the case. Best of all, it has a lifetime warranty. Read More Here⇒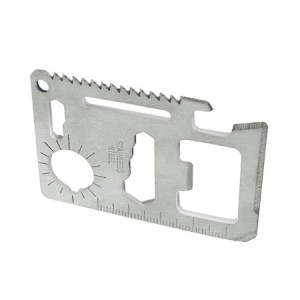 This convenient tool has all the tools you need out in the open. There is a total of 9 tools built into it. It has a two-inch knife blade with a serrated edge, a toothpick, a credit card sized bottle opener, wrenches, and more. It all comes wrapped in a tiny leather pouch so that you do not ever have to worry about damaging the steel while not in use. Read More Here⇒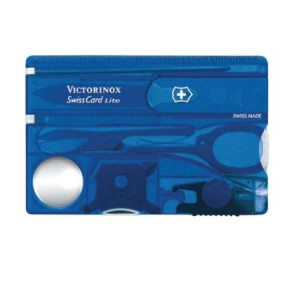 This handy tool has received awards for both its form and function, which is not surprising as it is manufactured by Victorinox, a trusted multi-tool name. It has an LED mini white lite on it, as well as 13 other handy tools. It comes with a lifetime warranty on all tools, including the magnifying glass, the straight pin, Phillips screwdrivers, and all openers. There is even a pressurized ballpoint pen and it all fits inside of a credit card. Read More Here⇒
This is a credit card pocket knife that is an ultra-thin 2.2 mm thick. This means the body of it is about the thickness of a traditional Stanley Utility knife blade body. It weighs only 13 grams and it is safe because the blade's edge is always protected when it is stored in your wallet or kit bag. When opened, a protective hilt will appear on this surgically sharp blade. It is ideal for opening pretty much anything you need to open at any time. Read More Here⇒