How to Use a Tactical Pen
Life has a tendency to catch you off guard sometimes. It does not matter whether it is a car accident or someone giving you a hard time. Imagine if you had the opportunity to carry something along with you that could help you get out of some of those less than favorable situations, but be used as something else. That is what you get when you consider having and using a tactical pen. However, the key to owning one is knowing how to use a tactical pen.
What is a Tactical Pen?
A tactical pen is a simple device. Its primary function is to be used as a pen. It looks like a pen, writes like a pen, and is even the same approximate size as a pen. However, the thing that makes them special is that they have another use as well. They are self-defense tools that are simple to carry and to hide. Some have sharp points hidden in the tip and others are simply made out of a high-grade steel that makes them heavier.
The best tactical pen will have a variety of uses in addition to writing. However, most are simple multi-use tools that can help you out of a bind if you happen to find yourself in one. Some of the tactical pens' uses include writing, breaking through objects, and of course a last resort defense mechanism. Some tactical defense pens are built strong enough to break through glass if you know how to use them.
How to Use a Tactical Pen
Most tactical pens are used as handheld protection devices. Most have a tip that can be used to puncture something or someone. Some are strong enough to break glass. It is a weapon choice that can cause a deadly stab wound if the wielder is not careful. Therefore, even if someone is hassling you, you should use caution and keep in mind that poking someone with it can cause lasting damage. These pens are not illegal to use, but if you poke someone with it, you will most likely be charged with using a deadly weapon against someone. Just the simple fact that it is a tactical defense pen means that you bought it knowing what it could do.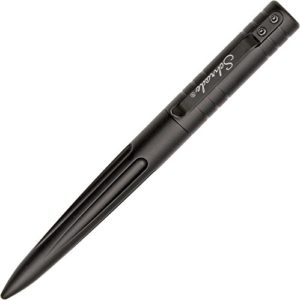 The Schrade tactical pen is 5.7 inches long and made of CNC machined 6061 aircraft aluminum. It has a screw on and off cap. It comes with a Houser Parker ballpoint pen cartridge. The aluminum is covered with a matte black finish. It weighs only 1.6 ounces. Current owners say that it writes good and it is comfortable to hold. It is small enough to fit inside a pen pocket. Read More Owner Reviews⇒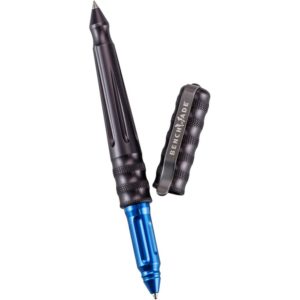 The Benchmade tactical pen has a carbide tip. It is blue and black and has an ergonomic knurling pattern. The body, cap, and grip are made with anodized charcoal black. The pen's grip is blue and it writes with blue ink. The carbide tip is strong enough to break through glass. When not in use as a pen its cap snaps firmly open or closed. Current owner reviews all show a five-star rating. They say it looks like a pen when in the pocket, but that when out of the pocket it does look like a weapon that could cause major damage.

The Smith and Wesson tactical pen is one of the major players when it comes to tactical pen reviews. It is 6.1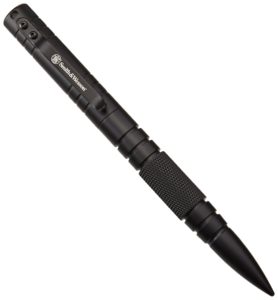 inches overall and weighs only 1.4 ounces. This pen is made of T6061 aircraft aluminum. It has a cap that clicks open and closed. Inside you will find a Parker and Hauser ink cartridge to write smoothly. The pen itself has a black finish. The pointed end is not the writing end. This means it has a tip on both ends, one for writing and one for helping you to get out of tough situations. Overall, out of the reviews for it, most people are completely satisfied with its performance regardless of what they are using it for. Read Owner Reviews⇒