When choosing a multitool, no one wants a tool that will let them down when they need it the most. That is why there are so many tool options for you to choose from. However, it can also contribute to an amazingly hard decision for you to make. Do you really gain more quality if you spend more money? Do you really need all of the tools that this one has or is fewer tools better for your particular needs? Leatherman multi-tools have always been a popular choice for people, but there again, you have a variety of tools with the Leatherman logo on them. Which one is best? Perhaps you should view the comparison between the Leatherman Surge vs Leatherman Wave Multi-tools. Both promise quality; which will measure up
Surge Vs Wave Comparison Chart
| Leatherman Surge | Leatherman Wave |
| --- | --- |
| Most Popular | More Affordable |
| Cost: $$$ | Cost: $$ |
| Warranty: 25 Year | Warranty: 25 Year |
| Number Of Tools: 23 | Number Of Tools: 17 |
| Rating: 4.7 | Rating: 4.8 |
| Read Full Surge Review | Read Full Wave Review |
| | |
Leatherman's 830040 New Wave Vs Leatherman's 830160 Surge
Both of these multitools have plenty of features that you may enjoy having in a multi tool. However, there are also a variety of differences between them as well. One of the major differences you will notice is size.
If you want light weight and smaller you will choose the New Wave, which weighs only 5.6 ounces and is measured at 4 x 1 x 1 inches when closed and 6.3 inches open. The Surge is slightly larger at 4.5 x 2 x 1 inches when closed. It is 1 pound, which may make it feel a little more solid in your hand, but may not be desirable if you are hiking through an area that requires you to keep your load very light.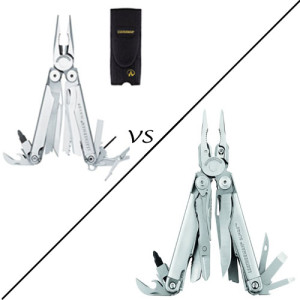 As far as tools go, you will find scissors, needle nose and regular pliers, wire cutters, a clip point knife, a saw, hard wire cutters, a wire stripper, a serrated knife, a diamond file blade, wood file blade, large bit driver, small bit driver, a bottle/can opener, a Lanyard attachment, a large screwdriver, and two double-ended bits on both handitools. The Surge comes out ahead of the game though if you want more tools on hand. It also gives you an electrical crimper, a blade exchanger, and an awl with thread loop. They both feature rulers as one of the tools, but you will get only an 8" ruler with the New Wave and the Surge has a 9" ruler.
Both of these multitools have easy access to four blades without you needing to open them up. Their blades are able to lock securely in place so that you do not have to worry about them closing up on you at a bad time (like on your knuckles). They also both come with a sheath and the Leatherman 25 year limited warranty.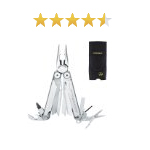 OR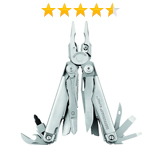 Which Do Users Prefer?
In our assessment, the Leatherman Wave is one of the top rated multi-tools in the industry. It is the perfect match between versatility and price. The Wave can usually be picked up at a bargain compared to some other multi-tools by Leatherman, Gerber and SOG. Having said that, the Surge is comparably priced, usually within +/- $5 of each other. It should also be noted that many potential buyers compare the Wave vs "Another Tool" For example, in a recent post we compared the Leatherman Wave Vs. Charge.  This speaks volumes to the reputation of the Wave.
Compare Current Costs
Overall, buyers have given these two tools high marks all across the board. They seem to be enjoyed by the people who have purchased them, even after months of use. Of the negative comments you will find very few complaints, most of which are based on it not being as good as the one they had many years ago or the one that was made by some other company, but no one says either tool is flat out junk.
This means, it will be up to you to decide which tools you need. Either option will be usable and dependable. Read our full Leatherman Wave review and the Leatherman Surge review which will prove that either can manage to keep up with you, regardless of what life hands you. It really comes down to weight and if you're really in need of the tool differences.
See More Variations