Most multi tools are knives and pliers that serve other many purposes. Simply pull out the knife, screwdriver, file, scissors, among other tools. They function well for most jobs thus you do not have to carry a full sized toolbox. Now, there is an even better kind of multi tool. What better way to carry a multi tool than in your phone case. Mobile phones are with us all day, every day, meaning you'll never be left without a set of tools again.
Jump To Our Selection Of> Multi Tool Phone Cases
What is a Multi Tool Phone Case?
A multi tool phone case is a phone case that eliminates the need for you to carry a heavy multi tool set in your pocket. A single phone case may have a variety of tools that are built into it. They may pull out or slide out. They may be a part of the actual phone case, such as a kickstand to make viewing easier. With the new iPhone case multi tool smart phone cases, anything is possible.
Why Is A Phone Case Multi Tool Ideal?
One of the main reasons these tools are so popular is that most people have their phone with them at all times. The tools turn the slightly heavy and larger phone case that you typically put on your phone to protect it, into something that goes way beyond protecting your phone. With them, you can take care of personal grooming while on the go and do much more. All you have to do is keep your cell phone nearby and most of us do that anyway.
What Are the Best Tools to Have?
Most people look for the pocket knife iPhone cases for their choice. However, there are many other tools that may be of interest to you. For instance, if you choose a certain utility iPhone case, you may get a lot of tools in one case. This includes screwdrivers and bottle openers, toothpicks and fingernail files. To give you an idea of the variety, check out the reviews below.
1N1 Multi Tool Case for iPhone 6/6s Plus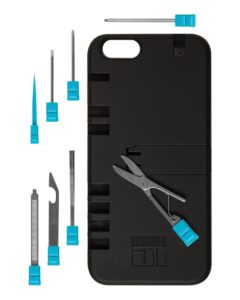 This unique multi tool iPhone case has blue tools. All total there are 10 useful tools included. They include a nail file, scissors, pen, bottle opener, screwdrivers, a toothpick, and a kickstand. The tools are made with alloy stainless steel and it is TSA compliant. All tools are held securely, along with your phone, in a polycarbonate casing. More On 1N1⇒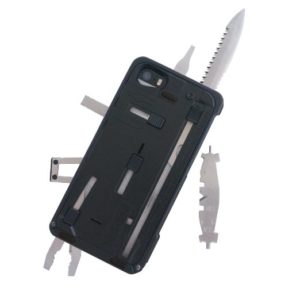 The Task One iPhone case is designed to work with the iPhone 5/5s Pro. It is made of aircraft grade aluminum and polycarbonate. There are 22 convenient tools on board and they are all made using 440C hardened stainless steel. Tools include a serrated blade, screwdrivers, pliers, and more. All are easily accessed using sliders that push the tool in and out of the case. More On TaskOne G3 Pro⇒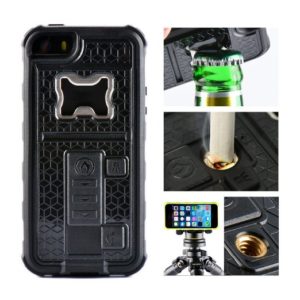 The AnyShock Multi tool set is designed to work with the iPhone SE/5S. It is unique because it includes a cigarette lighter, a beer bottle opener, and a camera stable tripod. It is shockproof protection for you cell phone, and offers features that you would never expect from your cell phone's case. More On AnyShock⇒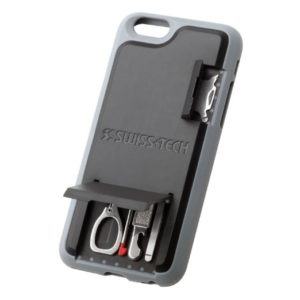 If you want a Swiss Army knife iPhone case, you need to consider the Swiss+. It fits on the iPhone 6 and offers many tools alongside of the Swiss Army knife. Some of the tools include screwdrivers, scissors, nail files, nail cleaner and more. In other words, it contains everything you need to handle your personal care. More On SwissTech⇒