Vice Grip & Locking Pliers Multi Tool Review
The primary purpose of any multi tool is to ensure that someone does not have to carry around an entire toolbox on their belt loops. They are created to provide most people with every tool that they could possibly need. For most people, they are perfect, but most multi-tools available offer multi tool pliers and very few offer vice grips. That is typically the one thing that a person must carry outside of their multi-tool. Wouldn't it be nice if you could have a vice grip multi tool?
What Is a Vice Grip Multi Tool?
A vice grip is a pair of pliers that will lock into place. They are adjustable so that they can cinch down onto any item, typically bolts and screws or nuts. This makes it easier to hold onto items that may be smaller than you can feasibly grasp and it also eliminates the stress that normal pliers can put on your hand when you are trying to hold them closed. It can also help when a nut or a bolt is corroded and frozen into place. A multi-tool that includes a pair of vice grips is able to give you the pliers and the lock. They are still fully adjustable and lockable and they include other useful tools for you to use as well.
Who Needs a Vice Grip Multi Tool?
Pliers were first used by people who needed to pull hot items out of an anvil. Locking pliers or vice grips were invented much later by someone who felt that he could make his job a little easier if the pliers would lock into place. Nowadays, vice grips are used for a variety of things. Some people use them to remove nuts and bolts or nails. They use them for assembling toys, holding pieces of wood together, to hold hot plates of food, to open doors that knobs fell off of, opening fingernail polish that is stuck closed, as a pot holder, and virtually anything else you can dream of. This means that anyone can use a pair of vice grips and many are now choosing to carry a locking pliers multi tool.
Which Vice Grip Multi Tool Are Best?
One of the most popular vice grip multi-tool sets available is the Leatherman Crunch. It is a multi-tool that features 15 tools that include a pair of regular pliers or locking pliers. It is a very helpful toolset that provides a lot of great tools for the average handyman. However, many people do not want to pay the price of all that it provides. We have a full Leatherman Crunch review here. This is why many other people have decided to give the Schrade vise grip multi tool a chance to impress them, even though they do come with fewer tools. Check Leatherman Crunch Pricing Here⇒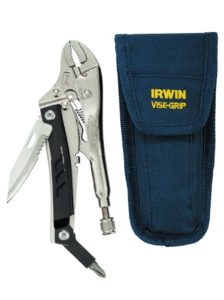 The Irwin Tools 1923460 5WR comes with its own carrying case. It provides you with a pair of vice grips, a wire cutter, a stainless steel serrated knife, a fold out screwdriver with 1/4" bit holder and several bits for you to use. It is built using high-grade, heat-treated alloy steel to ensure it is durable and ready when you are. More On Irwin 5WR here⇒

The Irwin Tools 1923455 has a needle nose vice grip which many people do prefer because of its ability to reach into tight areas and clamp down onto small nuts or bolts. It has a stainless steel serrated knife, a screwdriver and all of the other features of the other Irwin Tools vice grip multi-tool set. More On Irwin Needlenose Here⇒
If you like more tools, you may want to stick with the Leatherman Crunch but again comes in at a steeper price tag. To learn more about the Crunch and all that it offers, you can read our full review here.