5 Of The Best Knives Under 50$
There are certain times in everyone's life that they could make use of a good pocket knife. However, many people avoid buying one because they do not want to spend a small fortune on a knife that they will use only sometimes. They want a quality pocket knife that will stay sharp, be easy to use, and ready when they need it. They want it to be able to open up plastic wrapping on items that they purchase and they want it to be able to cut through ropes, among many other uses. The good news is; you can have a pocket knife or a multi tool that will do it. As proof, here are 5 of the best knives under 50$.
Features of an Inexpensive Pocket Knife
When it comes to finding the best pocket knife under 50 dollars, you have a lot of choices. In most cases, these knives have features that make them ideal, even though they are not the most expensive knives on the market. There are some that have assisted opening or they fold up. Some are multi tools similar to the Swiss Army knife. To see what options you have; you should take a look at our most favorite choices in pocket knives on a budget. All of our top picks are going to be a good choice for anyone looking for an affordable pocket knife.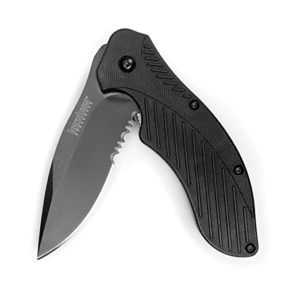 Speedsafe is a feature that ensures it is easily opened. It has a drop point blade that is partially serrated and black oxide coated. It has a locking liner flipper opening in a handle that is made of glass filled nylon. The tip is reversible and it has a pocketclip. This folding knife measures 4.25 inches when closed and an overall length of 7.4 inches when open. It has an impressive 4.7-star rating. More about the Kershaw Clash here⇒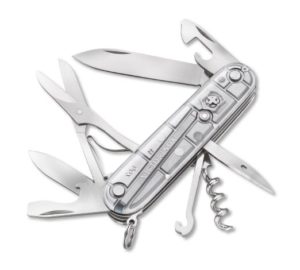 This is a true Swiss Army knife that is made in Switzerland. It is well-known for being the best pocket knife brand, according to many and comes in a variety of colors. It is a compact tool that is designed for anyone who loves to hike and climb. It has a total of 14 tools on it to ensure that you always have what you need close by. More about the Victorinox Swiss Army Climber here⇒
Smith & Wesson Linerlock W/ Assisted Opening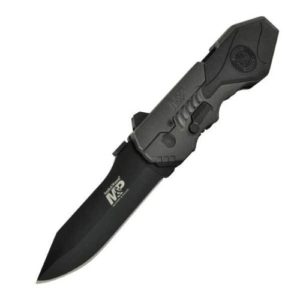 This very durable knife is designed to be used by the toughest outdoorsmen. It provides comfort and performance. The blade is 3.6 inches long and it has a 5-inch handle, but weighs only 7.4 ounces. It has a spring assisted opening feature and an integrated glass breaker. It is rated 4.4 stars. More about this affordable Smith & Wesson pocket knife here⇒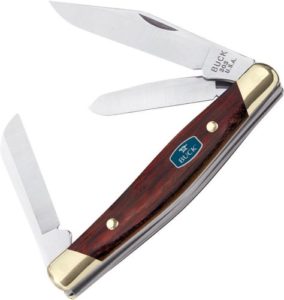 This is a 3-blade, folding pocket knife. The three blades include a 2 1/2" clip, 1 3/4 inch sheepsfoot, and a 1 11/16 spey. They are made of 420HC steel to give you a strong, corrosion resistant knife that can maintain its sharpness over a long period of time. Closed it measures only 3 1/4 inches long and weighs 1.9 ounces. It is also a very pretty knife thanks to the rosewood handle and brass bolsters. It has a forever warranty and it is made in the USA. More about the Buck Knives 303 here⇒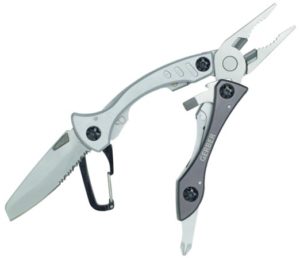 With this knife you can choose from two different colors including gray and green. It comes from a name brand that many people trust. It is useful in all types of situations because of its 8 unique features including wire cutters, bottle openers, and needle nose pliers. More about the Gerber Crucial here⇒