Carabiner Multi-Tool & Knife Review
The original carabiner was used in situations or sports where ropes were involved, such as climbing. However, it did not take long for these little hooks to be used by a variety of people, in a variety of situations. There are a lot of people who use them to attach their keys to their belt loops or for the ladies, their purse. Now, that same rope climbing tool turned keychain has taken on a new purpose. That is where the carabiner multi-tool comes in.
Jump To> Carabiner Multi-Tool Reviews
What is a Carabiner Multi-Tool?
This handy little tool is similar to a regular styled multi-tool. They have a variety of tools that are in one convenient tool, but instead of being in a pocket knife shaped item, they look more like a carabiner. They may be shaped like a carabiner or they may simply have a carabiner hoop on them so that you can attach it to your belt loops. Either way, you get a variety of tools in a simple to use, easy to access, tool.
How Would You Use A Carabiner Tool?
The carabiner tool is useful in a variety of situations, but they are preferred for camping and other outdoor adventures. The reason why is because the carabiner makes them easy to keep within reach. The spring loaded clip is easy to get on and off your belt loops and from there you can do anything you need to do. Some of these multi-tools have serrated saw blades, scissors, knives, screwdrivers, and a lot of other tools inside of a very small package. What's not to love about that?
Why are Carabiner Multi-Tools Preferred by Many?
Carabiner tools are a hit among many because they are so easy to carry. You no longer have to dig in your purse or your pockets for you multi-tool, it can be right there hanging on your purse, backpack, belt loops, or anything else. They have a variety of tools available, and each manufacturer will have their own selection of tool styles. The carabiner knife may be small like the carabiner or you can choose to go with a larger style multi-tool which has a carabiner on one end.
These tools are so useful, it is hard to say why one person may prefer it over other options. Perhaps the best way for you to decide if a carabiner pocket knife is right for you or not is to show you the options that are available. Here are a few of the more popular carabiner multi tool reviews for you to consider.
The Leatherman Carabiner is a full sized multi-tool that features a convenient carabiner on one handle. When closed it is about 3 inches long with a 1.6-inch knife blade folded into it. Along with the pocket knife, there are also tweezers, a bottle opener, scissors, a file, and a mini screwdriver. It also looks sharp with stainless steel and black glass filled nylon. Read More Here⇒

This multi-tool is very similar to the Kershaw Carabiner tool in looks and in style. It features a knife, a screwdriver, and even a bottle opener. It can be used for mountain climbing adventures, riding, camping, fishing, and more. It can hook anywhere you need it to be so that it is never very far from your reach and it also has a hole for threading. Read More Here⇒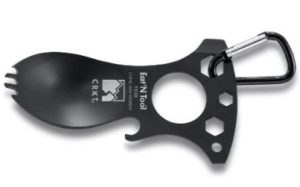 This nice little tool is designed for camping and enjoying the great outdoors. It is a carabiner multi-tool that is unique among others because it is usable as a spoon or fork. It includes a bottle opener, hex wrenches and it is coated with a nonstick black coating. It is easy to hold, easy to use, and convenient to carry with you on your next adventure into the great outdoors. Read More Here⇒

This is a multi-tool carabiner for people who love hiking, camping, or bouldering, as well as camo. It features the carabiner and a knife, saw, LED light, compass and more depending on the options you choose. It has a hole for threading and can easily be used as a keychain and more. Read More Here⇒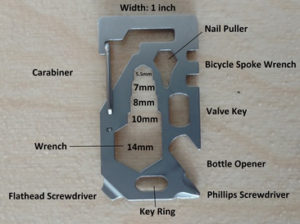 This is a new carabiner coming to market very soon thanks to a successful Kickstarter campaign. What makes this carabiner better than those outlined above? Check out the wrench included in the middle of the tool. This is something we haven't seen on any other carabiner multi-tool, let alone a standard multi-tool. Surprisingly, this is a much lighter tool as well and can even fit inside a wallet. This can also function as a bike multi-tool as it includes a bicycle spoke wrench.  Check out the video below to learn more about Crank, and help back the Kickstarter campaign if you're looking for the ultimate carabiner multi-tool.