CRKT Guppie Tool Multi-Tool Review
The search for a perfect compact multi-tool is not always an easy one. Most people only need a few tools to get the job done. The CRKT Guppie could be the perfect tool for someone who simply wants to get the job done without having a lot of tools to look through.
The Columbia River Knife Tool is different from most multi-tools. Packed into this multi-tool you will find it has a crescent wrench, a knife, screwdriver bits, LED light, carabiner, and a bottle opener weighing in at 10.4 ounces. Just a few handy tools for you to carry easily in your pocket or on your belt. The adjustable wrench jaw opens to ½-inch.  The bit carrier is removable and fits standard Phillips and flat bit screwdriver.  However, what truly makes the CRKT multi-tool impressive is the knife blade.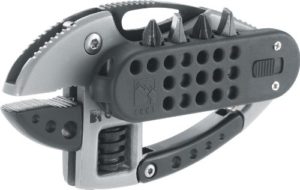 The blade is constructed of a high-carbon satin finish stainless steel, featuring a slip joint locking mechanism. It is a 2-inch straight edge blade that is very sharp. It has a one-handed quick release for both opening and closing using a blade slot.  The high intensity LED light requires 2 lithium batteries, but are included with the multi-tool.
With it comes a carabiner built in with the addition of a stainless steel clip which conveniently clips to a pocket, gear or can even be used as a money clip. The carabiner is also a handy way to attach the tool to belt loop, pants pocket or a bag.  This multi-tool is also priced very affordable in comparison to other multi-tools. The entire set is black and grey steel. The handle is large enough to feel firm in your hands. What more could you ask for when it comes to electrical work and minor repairs?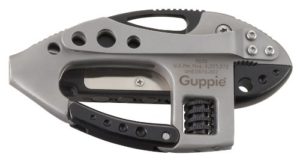 What Do Users Say About the CRKT Guppie Multi-Tool?
Both longtime fans of a CRKT multi-tools and now the Guppie tool, buyers seem to have various opinions on it. Some people do feel that it is more useful for personal use multi-tool, definitely ideal for smaller, lighter jobs as the case of the body is made of plastic.  Even considering its smaller size of 5×5 inches, it is on the heavier side weighing in at 10.4 ounces.  This is a downfall for some, but most say it feels more secure in their hands by being slightly larger. Some say it works best for an IT technician rather than the everyday handyman, but others feel it is excellent for anyone who wants a multi-tool.
A lot of users complimented the 2-inch drop point blade as it stays extremely sharp, use after use.  In addition to staying extremely sharp, the one-hand opening and closing function are very convenient. The slip joint locking mechanism is designed to keep the user safe while in use. 
This multi-tool has been designed more for personal use and lighter labor-intensive jobs. The LED flashlight is not the brightest of the flashlights on the market, but again, for the size and price, it works well enough for this multi-tool.
Of the few negative reviews, you will find a person who was not happy with the screwdriver bits as they felt they could easily fall out of the magnetic bit tool caddy. But other users stated they had to use a narrow item to help push the bit out of the caddy.  However, when you see the reviews and find more positive than negative, backed by a Lifetime Warranty, it is hard to say that the CRKT Guppie multi-tool is unworthy of a second glance. Read More Reviews Here⇒