If you have been looking for the perfect compact toolkit that you can carry with you anytime, this Leatherman Rebar could be the best tool for you. Here are some notable qualities which we think make this an excellent all-around tool.
Leatherman Rebar Product Review
Size: 5.7 x 3.7 x 1.8 inches
Weight: 8.5 ounces
All Around Features: Pliers, hard wire cutter, electrical crimper, knife, serrated knife, file, large and small screwdriver, Phillips screwdriver, awl with thread loop, 8-inch ruler, bottle opener, can opener, wire stripper and lanyard ring.
Accessory: Nylon belt pouch for easy carry
Leatherman Rebar Pros
Size
Practically four inches; even without the belt pouch you can place this inside your pocket and carry it with you anywhere. What is impressive about the size is that even though it is small, compact and lightweight the material seems to withstand heavy duty work. Which is another thing which impressed us about the size is that although it is small, it won't give you an inadequate grip and feel of a small tool. It actually is a super small tool, but not quite a mini multi-tool.
Physical Strength
We believe this is one of the strongest compact multitools available out in the market. At first glance, you will notice that the tool looks strong and sturdy. However, it is worth noting that most small tools will only give you that sturdy physical impression but once you use them, the screwdriver's tip may easily chip rendering it useless, or the serrated knife doesn't really work properly. Also, on many smaller multi-tools, the knives dull easily, meaning you'll spend more time sharpening your blades. Using a small tool like this demands more force because of the size, but the Rebar is an exception to the rule providing a sturdy construction.
Design
The tool is designed to conveniently bring out the multi-tools with ease. You can easily access the toolset and can readily identify which is which. You won't chip a fingernail when bringing out the tools. So, ladies, this might be a nice every day carry multi-tool for you.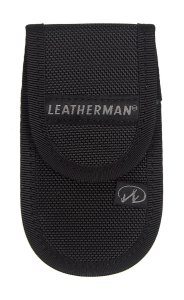 Lightweight
The weight is definitely comfortable in the pocket. Although it looks a bit bulgy when you are wearing denim pants and you place this inside the pocket, it still doesn't feel that heavy. It only weighs 8.5 ounces which I think is a good weight for a small tool set.
Nylon belt pouch
This accessory comes with the purchase which I think is a great companion for the multi-tool. I like the sleek look of the pouch which lets you easily get the Rebar when you are working. It fits perfect in the pouch and looks great when attached to your belt.
Performance of the small tools
This is actually a monster tool! The reliability is quite amazing. The wire cutters are sharp and the pliers can turn knots and bolts which have been rusting for quite some time. We especially like the serrated knife which lets me slice through items with ease. I think it is one of my favorite tool in this set.
Cons
No Scissors – Although many do not use scissors that much, we think it should still come in handy when needed. I guess this is the only thing that makes it less attractive to buyers.
Durability – the durability is yet to be tested. Although this small tool performs well in most cases, I think this will not be durable enough when abused and used in big work. This is not to be used as a heavy duty tool for work but a "go to" tool when you do not have the big multi-tools tools available. I think it will easily wear if used in this manner.
Who Should Buy the Rebar?
It is a recommended multitool for both men and women to keep in their toolbox, in the car, their kitchen drawers or backpacks. This is a better replacement for the Swiss army knife that we have all been familiar with. Everyone should have this almost in any part of the house for small tinkering here and there.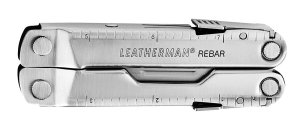 This is recommended for the housewife who needs a set of tools in her kitchen but does not really need a large set of tools. This can be a great companion to work. It is best to keep a multi-tool like this in your car.
Why Buy The Leatherman Rebar
With its functionality and performance, this is actually a great buy for its price. The cutters are excellent, the pliers are sturdy and easy to grip during turns. The small multi-tools are quite amazing. This is definitely a great buy.
There are other multi-tool sets available on the market. This one is definitely to be considered as a super tool because of the reliability of the small tools without having the fear that the screwdriver might bend anytime. The stainless steel material is quite reliable in making the product strong to withhold friction.